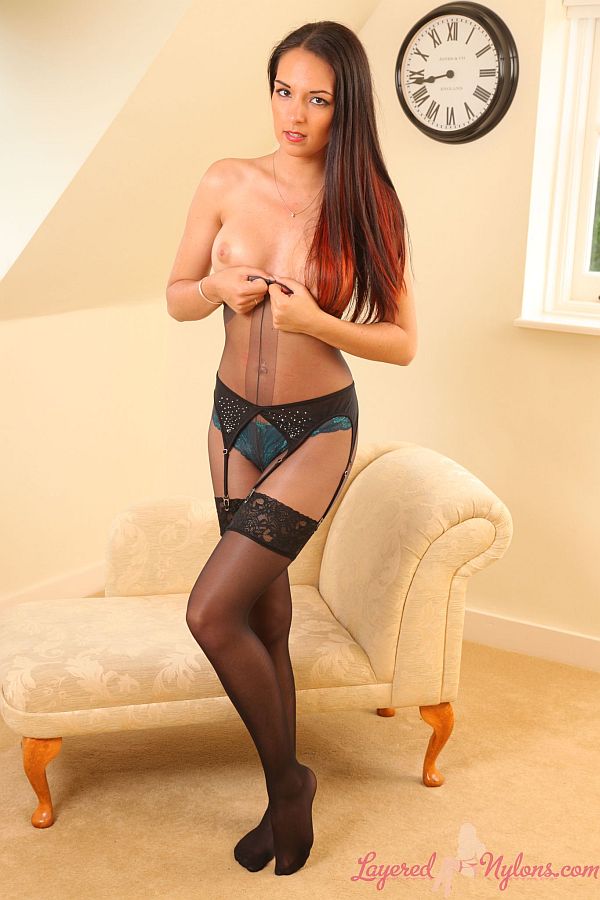 Rebecca's long brunette hair fell over her shoulders and down the front of deep plunge, green satin evening dress, as she lifted it to adjust the lacy tops of her black nylon stockings.
Kneeling on the chair, she gathered the folds of the dress at the back to reveal her thighs dressed in dark grey pantyhose, which she was wearing under the layer of her suspenders and stockings.
Rebecca slipped the straps of her dress over her shoulder and the slippery, satin garment, slid down the length of her body, revealing her all natural breasts. The cheeks of her ass looked so alluring, sheathed in dark coloured, sheer pantyhose, under which she was wearing a very pretty lace pantie thong.
Sitting with her legs crossed, she slipped off her heels, allowing them to dangle from her toes, before taking them off. She folded her arms around and under her thighs, then lifted her legs to display her feet and point her toes in their nylon layers.
Rebecca got up to stand in her stockinged feet and stretched the waist of her hose up her front, as she posed semi-naked in her layers of lingerie and nylon hosiery.