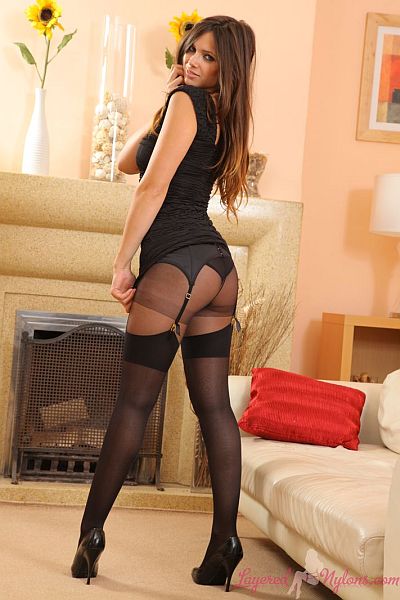 Sexy Glamour model Louisa Marie's lovely long brunette hair flowed over her shoulders as she stood with hand on hips and posed in her tight black dress. The dress she was wearing was so short, the tops of her black nylon stockings and suspenders appeared tantalizingly visible below the hemline.
Resting her head against a cushion as she lay back on the sofa, she allowed the dress to raise up her thigh to reveal her stockings were layered over black nylon pantyhose. Turning to provide a rear view, she lifted the dress higher to show she was wearing a black satin garterbelt. Her ass looked pert under the tight layer of nylon that encased the cheeks, and the suspenders stretching around her thighs and down to her stocking tops extremely sexy.
Louisa Marie lifted her arms and pulled the dress over her head, revealing she was wearing a very pretty black and purple bra with a delicate pattern. She smiled warmly as she turned and showed of her shapely legs and ass in slick black layers of lingerie and nylon. Then grasping the waistband of her tights between thumb and fingers, she stretched her sheer hose right up to the level of her bra.
See stunning brunette Louisa Marie teasing in a layer of black nylon stockings over sheer pantyhose in this 128 image photo set at Layered-Nylons.