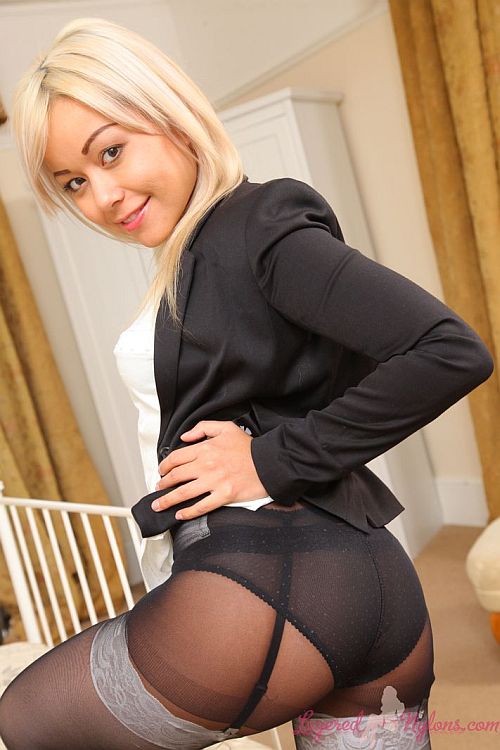 There's something sexy about a girl in tight fitting jeans, especially if they are wearing stockings and suspenders underneath, which are often evidenced by the telltale suspender bumps visible under the fabric of the denim.
Such was the case with lovely Lilly S as she stood next to the bed in her jeans and black, knee high boots, which she quickly unzipped to show she was wearing some delicately patterned white stockings under a layer of black pantyhose.
Next, she unzipped her jeans and pulled them down to fully reveal that the stockings were white lace topped hold-ups; though they were attached to a black suspender belt, which was worn under some very sexy sheer black panties that clung to the curves of her buttocks.
Lily lay down and stretched her legs over the surface of the bed to give views of her patterned stockings and close up views of the soles of her feet in their layers of sheer nylon. Then she knelt and stripped off her top and slipped the straps of her black bra from her shoulders, teasingly holding the cups in place before finally uncovering her breasts with their bud-like nipples.
Lily finished by posing topless, turning around to give more views of her legs and ass, then stretched the waistband of her pantyhose up to her naked tits as she lay on the bed looking beautiful and relaxed.