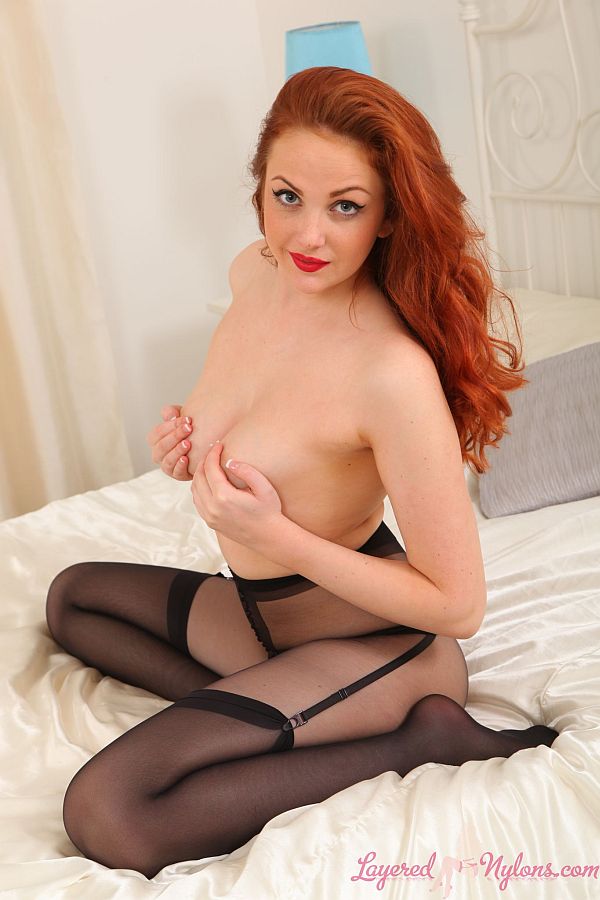 Redhead Kara is looking forward to Spring and going out dressed in her flared summer dress, wearing sexy black hosiery on her legs and a new pair of open-toe heels.
'There's just something about this vintage style dress and the way it swirls around my thighs as I walk along the street,' Kara said, as she posed for us in the bedroom. 'I like having a layer of pantyhose, suspenders and stockings underneath that no-one else knows I am wearing. Unless of course, I happen to give them a quick flash by lifting it for a brief moment,' she laughed at the thought. 'You should see their faces as they catch a glimpse of suspender attached to my stocking tops!'
Kara slipped off her heels, then knelt on the bed and pulled up her dress to give a view of her ass, sheathed in a layer of black nylon pantyhose. The straps of her black suspenders strained on the tops of her black stockings as she crawled over the satin bed-sheets. Then she rolled over and reclined with her legs open, pulling the dress around her hips to show her pantyhose gusset stretched tight around the crotch of her black lace panties.
Teasingly, she slipped the straps of the dress over her shoulders and pulled it down, revealing a black strapless bra around her chest. She got up and stood in her stockinged feet and the dress slid down her body to the floor, whereupon she stepped out of it and posed with hands on hips in her black lingerie and nylon hosiery.
Kara knelt on the bed once more and sat so her buttocks rested on her heels, then reached behind her back to release the catch of the bra. Carefully stripping away the bra, she cupped her hands over her breasts and reclined on the bed with the red locks of her hair framing her pretty face as she posed in classic pin-up style.