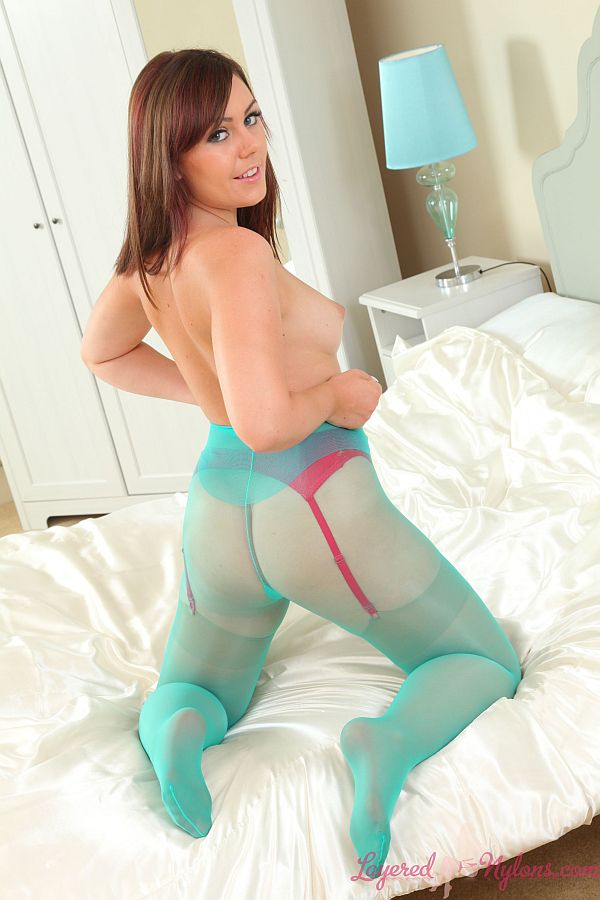 Kacie's lustrous, brunette hair fell over her shoulders as she lifted the front of her turquoise dress and revealed she was wearing red suspenders and tan stockings under her coloured, sheer nylon tights.
She unzipped the dress at the back and let it slide over her shoulders and down her arms, revealing a turquoise coloured bra supporting her breasts. Bending over, the cheeks of firm round ass, sheathed in it's layer of nylon came into view and the dress slipped down her legs.
Removing the dress, she lay back on the bed with her legs open and revealed she was sans panties under her pantyhose, then she pulled on the waist of her hose so the opaque gusset was stretched tight around her crotch.
Kacie slowly teased out of her bra and stripped it away, revealing the lovely, soft, pink aureolas of her all natural breasts that almost shined with a silky glow.
Kacie got into a kneeling position and tilted her ass upward, her red suspenders pulling taut on the tops of her stockings under the layer of nylon encasing her buttocks. She gave a naughty smile as she looked back over her shoulder and pushed her hand down the rear of her hose to spread her fingers over the soft flesh of her ass cheeks.