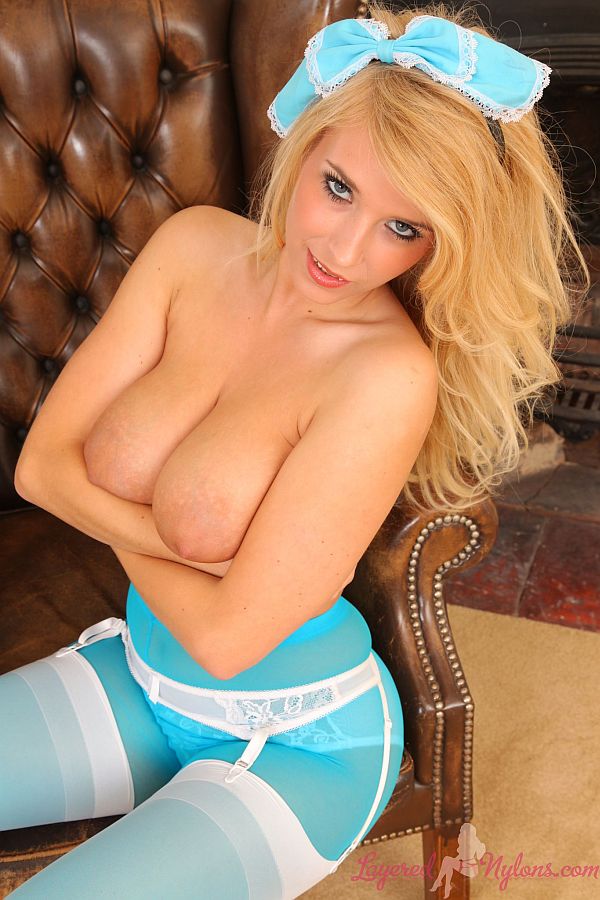 Jodie Piper decided it would be fun to dress in this blue maids outfit and wear some white nylon stockings and suspenders, layered over some matching blue pantyhose and topped off with some white heels.
She looked like a proper 'tease-maid' as she lifted the back of her skimpy skirt to give us a look at those white suspenders stretching down her thighs to the tops of her stockings, and her full-back panties underneath her blue, sheer nylon hose.
Jodie slipped the shoulders of her uniform down and revealed her white bra and the flesh of her cleavage, then completely removed her outfit. Sitting in the chair she slipped off her heels to give some close-up views of her feet in their opaque, blueish layers of nylon hosiery. She then slipped the straps of her white bra over her shoulders and slowly lowered the cups until her large, pendulous breasts were fully of display.
Well, what a marvelous sight it was as she stood in her stockinged feet and posed topless in her white lingerie and stockings all nicely contrasted and layered over blue, nylon pantyhose.