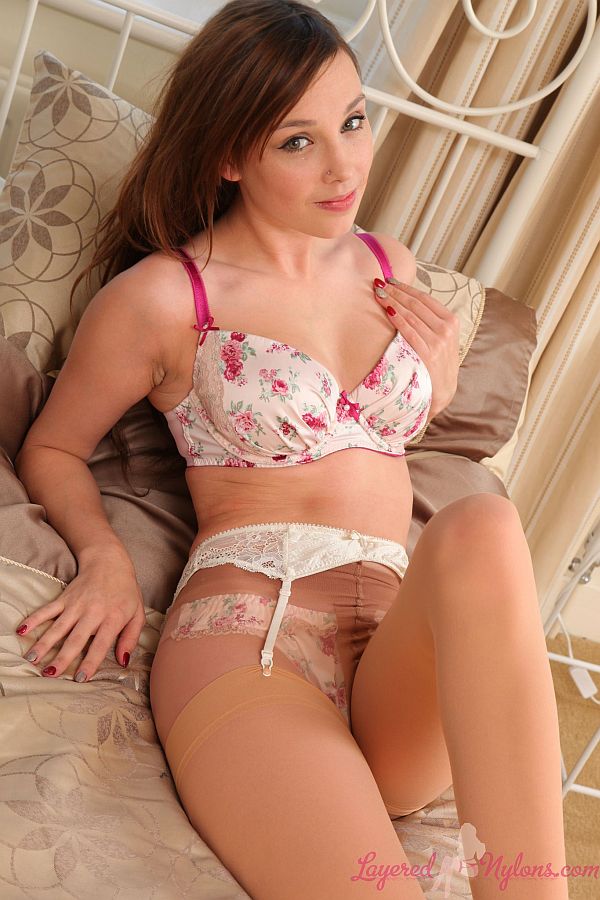 Jo stood and looked back over her shoulder as she raised the back of her polka dot dress and revealed she was wearing layers of lingerie and tan stockings, over beige nylon pantyhose.
Running her hand over the soft nylon that encased the roundness of her firm ass, her fingers brushed over the white suspenders attached to the tops of her sexy stockings.
Jo unbuckled her belt, stripped off her dress and removed her heels, then reclined on the bed in her pretty floral lingerie and slid one foot up her leg, over the surface of her silky nylon pantyhose.
Kneeling, she unclasped the eye-hooks of her bra and slipped the pink straps over her shoulders, holding the cups in place over her bosom, before stripping it away to uncover her all natural breasts and pink, puffy nipples.
Standing in her stockinged feet, she pushed her hands under the waist of her suspender belt and down the rear of her hose, spreading her fingers over the flesh of her pert bum cheeks. Then she hooked her thumbs under her suspenders and stretched them out sideways, so they pulled taut on the tops of her tan stockings.
Jo looked so sexy as she reclined on the bed, her long red hair falling around her breasts as she posed topless, caressing her legs and lifting them up to give a close view of her feet in their layers of tan nylon hosiery.