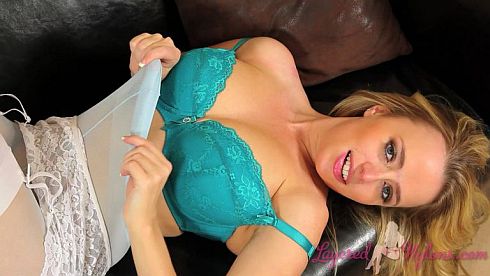 Holly Gibbons relaxes in her pretty lingerie and a layer of white stockings and suspenders over pantyhose in this video at Layered-Nylons.
Wearing white nylon stockings and a wide lacy suspender belt over almost nude power-blue pantyhose, Holly stands in her heels to show off her fabulous figure.
Holly parts her glossy lips as she sits on the couch caressing her legs in their double layer of sexy nylon, adjusting her suspenders and making sure they are correctly in place.
Removing her royal blue chiffon top Holly reveals she is wearing a pretty turquoise blue bra, then lays back to let her gorgeous blonde hair cascade over the edge of the couch. Holly explores her shapely figure through layers of lingerie and teases us by pushing her hands down the top of her white nylon stockings.
Holly reaches behind to remove her bra and when she turns we get a close up view as she cups her naked breasts in her hands. Then pulling on the waistband of her pantyhose, she stretches her lovely nylon hose all the way up to the soft buds of her pink nipples.
We are sure you'll enjoy seeing Holly in her layers of nylon stockings over pantyhose in this high-definition video at Layered-Nylons.