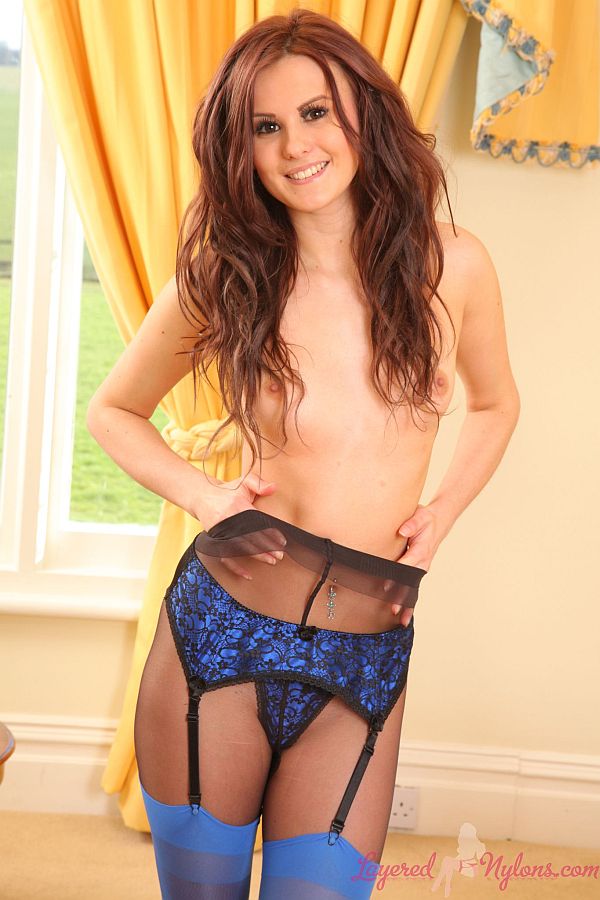 Here's another fantastic set of gorgeous Bryony S and this time she's teasing in a layer of blue lingerie, stockings and sheer black pantyhose.
Bryony gave us a big smile as she looked over her shoulder, knowing we could see the faint bumps of her suspenders through the material of her short, tight fitting dress.
Slowly, she lifted up the front of her dress and revealed she was wearing blue silk and satin suspender belt and black suspenders attached to the tops of her blue stockings.
We must say her long black suspenders looked so enticing, the way they framed the matching, blue silk pantie thong she was wearing under the layer of her sheer nylon pantyhose.
Bryony knelt on the sofa and pulled up the back of her dress to give us a view of her fabulous ass sheathed in nylon; her black suspenders stretching round the curve of her buttocks and pulling taut on the tops of her stockings.
Stripping off her dress revealed she was wearing a matching blue bra and hooking her thumbs under the straps, she slowly peeled away the cups and displayed her petite, all natural breasts.
Bryony slipped off her heels and laying on the sofa she stretched out her legs and pushed her hand between the layers of her blue stockings and black pantyhose. Then she lay on her back and lifted up her legs, crossing them at the ankles to show the soles of her pretty feet in their layers of nylon hosiery.