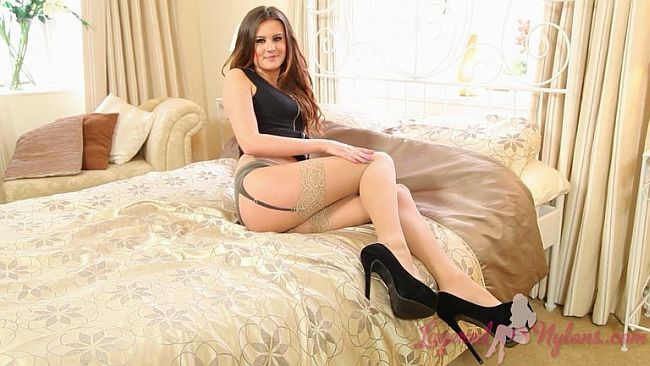 Brunette Bryony S looks ready to party in her black zip-up dress, her shapely legs in beige-tan hosiery and some funky stiletto heels, in her latest video at Layered-Nylons.
Her legs look so long in those heels and her dress is so short, it kind of makes them look even longer! In fact, it's so short she's going to be attracting a lot of attention on the dance floor as she moves and gives tantalizing glimpses of the lacy tops of her stockings.
Bryony revealed a lot more to us as she knelt on the bed, pulling up her dress to show she was wearing her beige-tan, sheer nylon pantyhose, layered over black panties, black suspenders and lace topped stockings.
Unzipping the front of her dress revealed a black bra, then kneeling on the bed she slipped the thin straps over her shoulders and stripped it away to uncover her petite, all natural breasts.
Bryony removed her heels she and reclined on the bed, the long tresses of her gorgeous hair flowing over her shoulders as she posed topless in her layers of black panties, suspenders and tan nylon hosiery.