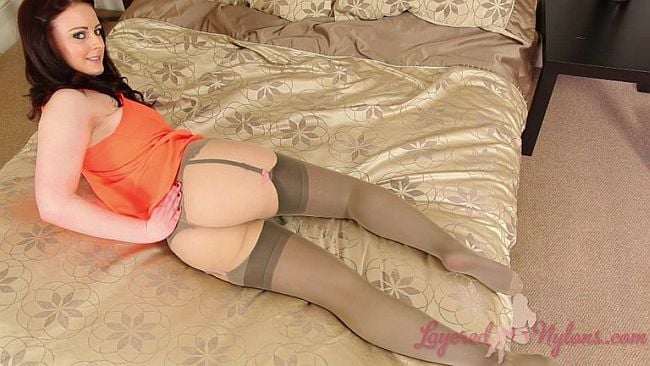 Bex looked so sexy as she wiggled her ass in a black leather skirt, which wass just short enough to show her sexy nylon stocking tops under a layer of sheer nylon pantyhose.
Her skirt made an audible hiss as she pulled it up over the surface of her nylon hose, to reveal her lovely bubble butt sheathed in an arousing layer of tan sheer nylon.
Swaying her hips from side to side in a seductive way, she caressed her butt cheeks through her layer of nylon tights and the lacy, black panties, that clung to the curves off her buttocks. Her sexy black suspenders stretched under the layer of her pantyhose as she teasingly brushed her thighs together, then slowly slipped her skirt over her nyloned butt and down her legs.
Bex removed her black suede, knee high boots, then lay back on the bed to display her dainty feet, seductively caressing her legs and ass through the layers of her nylon pantyhose and stockings.
Having stripped off her top, she fondled her pendulous breasts with their bright pink nipples as she stood in her stockinged feet, then turned to show off her shapely legs and ass encased in layers of sheer nylon hosiery.