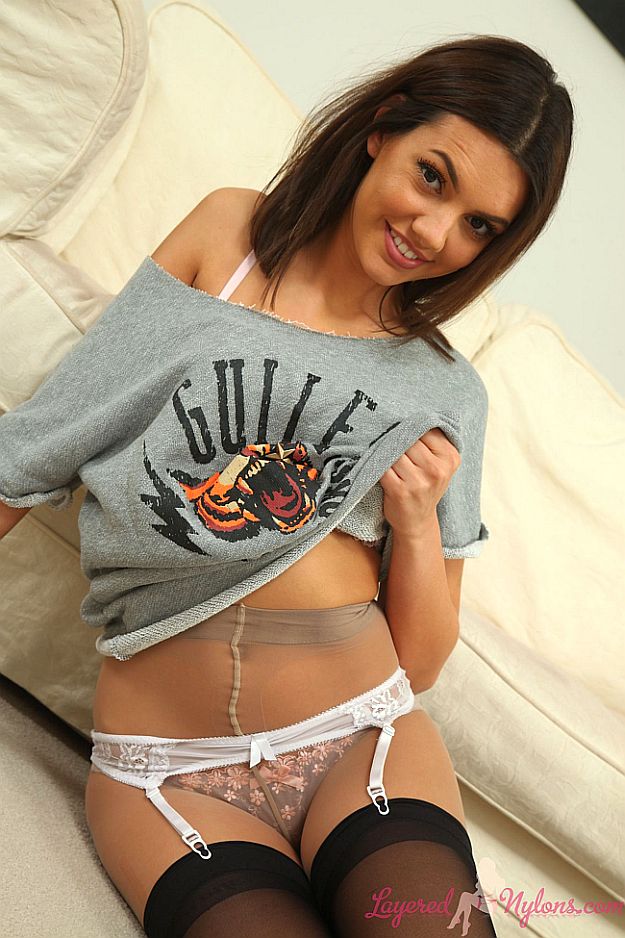 Abigail spends her day off relaxing at home, and performs a striptease to reveal she is wearing lingerie , stockings and pantyhose under her casual clothes.
Abigail sat on the sofa and crossed her legs, then slipped off her stiletto heels and playfully dangled them from her nylon clad toes.
Getting up to stand in her stockinged feet, she eased the waist of her skinny jeans down, revealing beige-pantyhose, a white suspender-belt around her waist and suspenders attached to black stockings.
Abigail knelt and presented her buttocks all perfectly encased in the delicate nylon of her panties and the sensual layer of her sheer pantyhose; the white suspenders wrapped around her buttocks pulling on the tops of her stockings.
Abigail stripped off her top and uncovered a pink bra decorated with pretty flowers that matched the panties under the layer of her nylon pantyhose. Her thumbs ran under the thin pink straps of the bra and eased them over her shoulder and down her arms, then she stripped it away to pose topless in her lingerie and nylon hosiery.