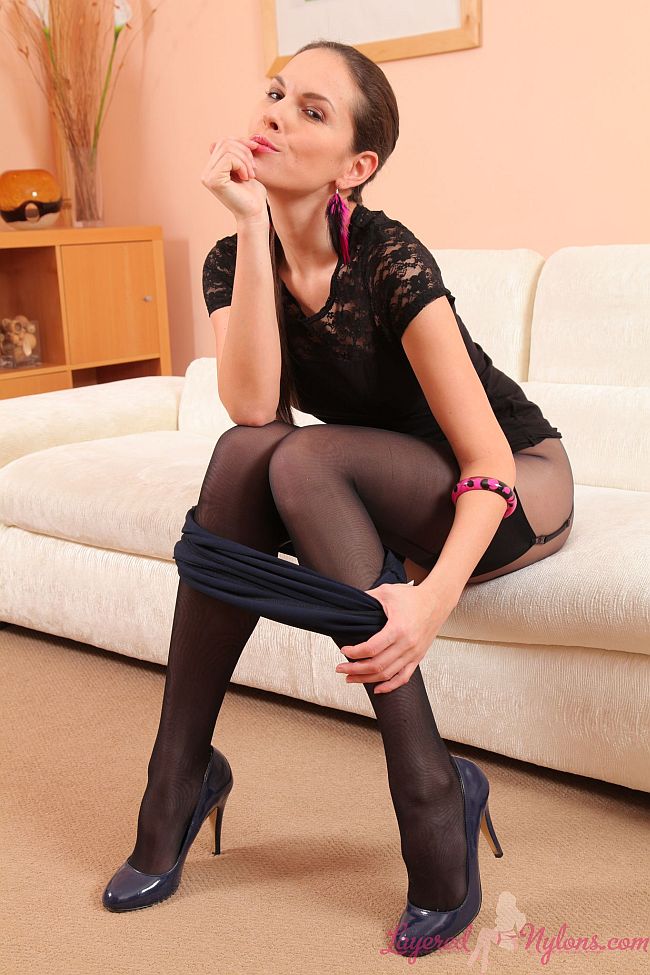 Zuzannah is known for her gorgeous long legs, and she wastes no time in pulling up her skirt to show off her fabulous ass, sheathed in navy blue nylon hose, layered over with black suspenders and seamed nylon stockings.
Kneeling on the sofa she looks back and smiles with obvious enjoyment as she runs her hand over her rounded buttocks encased in black pantyhose. Then she turns and sits with her legs open to reveal the semi-opaque gusset patch stretched over her crotch, under which she is sans panties.
Zuzannah slides her skirt down her legs to take it off and removes her heels, then poses with her back arched as she lays on the sofa in her lingerie and nylons. Taking off her top reveals a dark blue bra, and slipping the straps over her shoulders she strips away the cups to display her petite all natural breasts.
Zuzannah lays back on the sofa and kicks up her legs, pointing her pretty feet in their layers of nylon as she poses, pin-up style, in her black suspenders and layers of nylon hosiery.