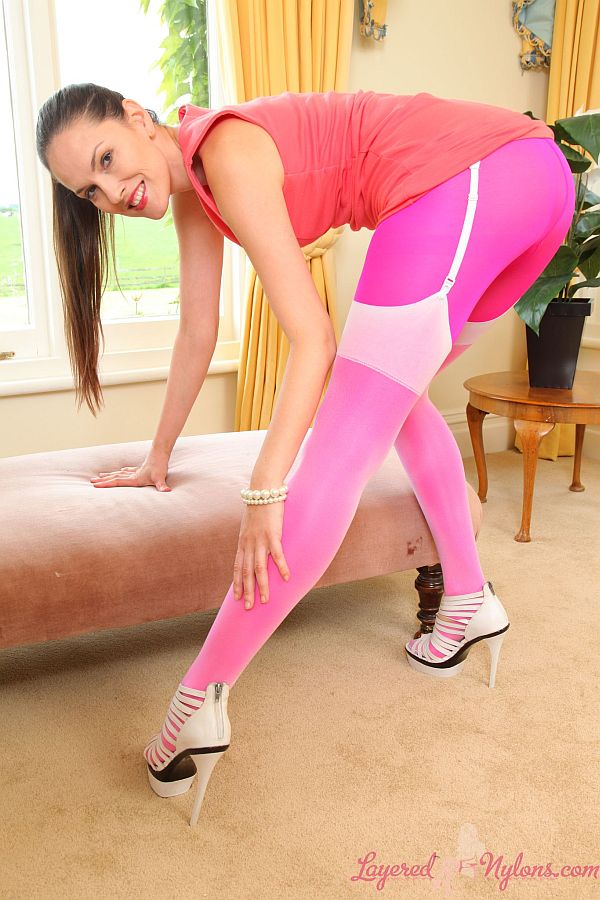 Zuzannah bent over so her gorgeous, rounded ass was pushed out, and reaching down she placed her hand near to her ankle and slowly drew it up her leg. Her long white suspenders stretched down her thighs and pulled taut on the tops of her white nylon stockings, which were layered over her opaque pink tights.
Zuzannah lay back on the chaise-lounge and crossing on leg over the other she slipped off her high heel shoes, then posed with her legs in a variety of positions, displaying her white suspenders and stockings which contrasted against her pink pantyhose.
Pulling down the front of her dress she bared her petite, all natural breasts. Then she stripped the dress away to reveal a white garter belt that stretched around her hips and clung to the shape of her peachy buttocks.
Zuzannah reclined on the chaise-lounge once more and posed topless, displaying her legs and pointing her pretty feet. Then she opened her legs to push her hand under the lacy suspender belt and down the front of her opaque pink tights and moved her hand behind the layer of opaque pantyhose nylon.