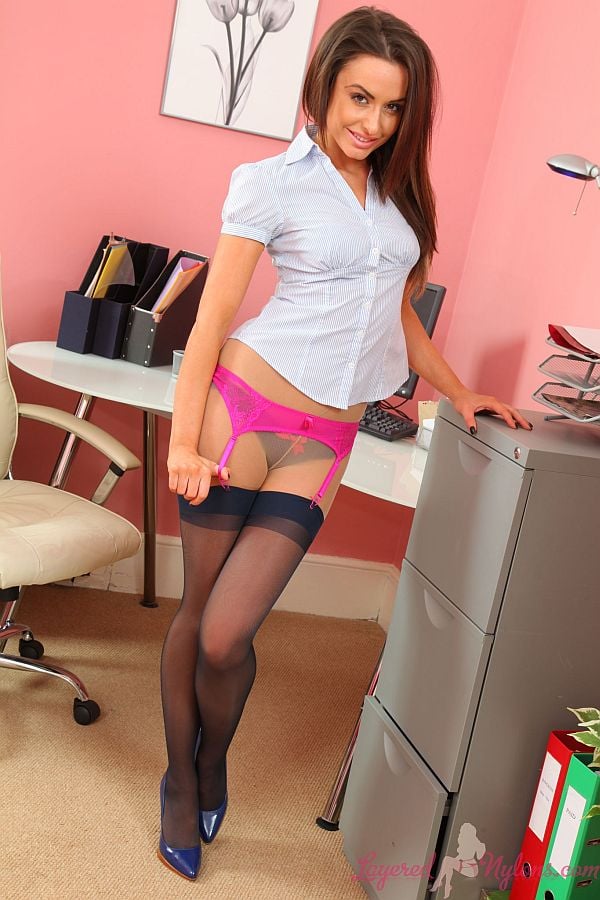 Today's sexy secretary in the gorgeous Sarah E, posing in the office, dressed in a tight fitting shirt, navy blue pencil skirt, dark nylons and heels.
The outlines of Sarah's sexy suspenders were visible through the material of her tight fitting skirt as she stood with her hands on her hips by the filing cabinet. She turned around and pulling up the back of the skirt, revealed she was wearing pink suspenders attached to the tops of dark blue nylon stockings.
Sarah was wearing a layer of tan nylon pantyhose under her stockings, and a tantalizing glimpse of the opaque gusset came into view under the skirt which was pulled tight around the cheeks of her ass.
She squatted down near the lower draw of the filing cabinet and opened her legs for a better view of her pantyhose gusset, then slipped her hand down the top of her stockings to feel the layer of nylon around her thigh.
Standing upright once more, she removed her skirt and turned to show the hot pink garter belt around her hips and the suspenders framing her dark blue panties under her layer of tan pantyhose.
Stripping off her shirt revealed she was wearing a pretty, dark purple bra with pink dots, which she removed and held over her chest, before letting it go to uncover her all natural breasts.
Sitting on top of the desk, she slipped off each of her heels, allowing them to dangle awhile from her toes, before getting down to kneel on the floor and give a view of her sexy ass encased in her panties and layer of nylon tights.