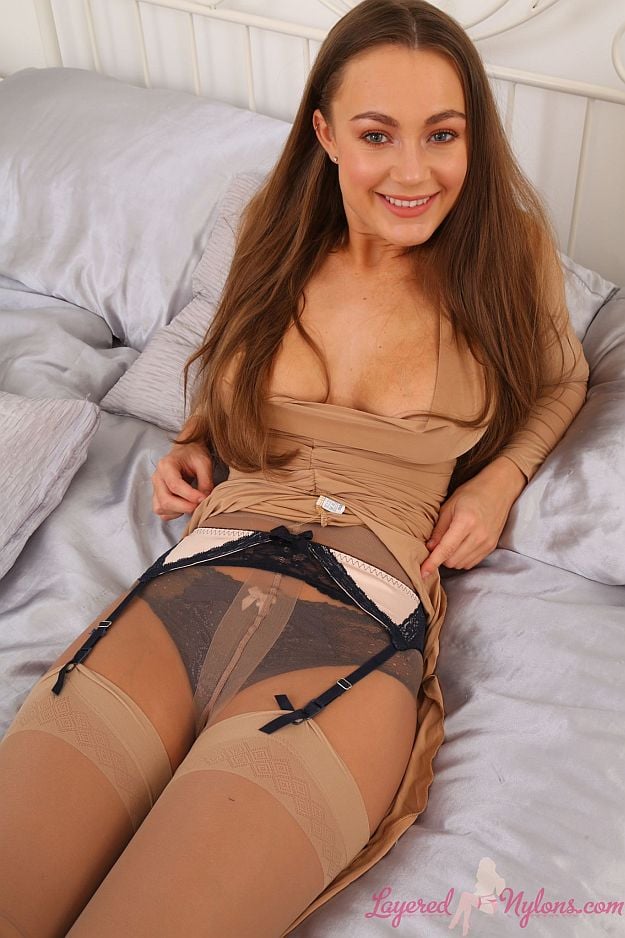 Pretty Zofeya's long hair hung loosely over her shoulders and covered her bosom as she posed in a tight-fitting beige dress that clung to her figure. The raised outlines of her suspenders showed through the thin material of her dress around her thighs and the open front slit gave us a tantalizing glimpse of stocking tops.
Zofeya lifted and parted the front of her dress around her hips, revealing the suspender-belt and beige stockings that framed the black lace panties under her sheer nylon pantyhose. She pulled the dress up higher, exposing the soft flesh of her all natural breasts which looked so perfect as they hung from her naked chest.
Zofeya stripped off the dress and reclined on the cool, satin bed-sheets, caressing her stockinged legs and slipping off her stiletto heels. She knelt to pose topless and her peachy boobs swung gently as she flaunted her body in lingerie and layers of beige-tan nylon hosiery.