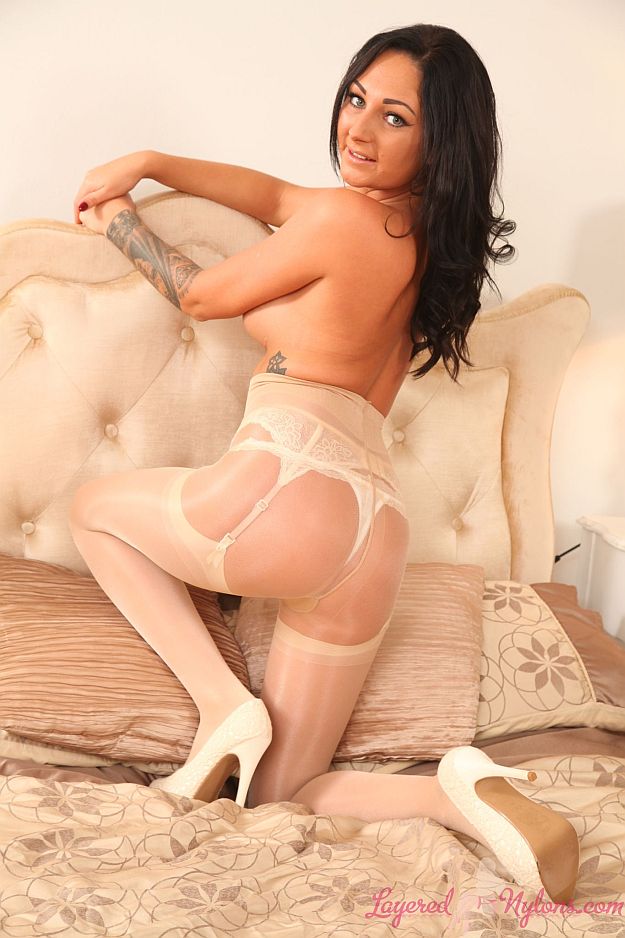 Busty brunette Lauren wore a long, beige evening dress that covered to her ample bosom, the slinky material clinging to the outline of her fabulous feminine curves.
Reclining on the bed, Lauren pulled back the heavy folds of the dress, revealing suspenders and cream coloured stockings under a layer of shiny, tan nylon pantyhose. Her hands caressed her legs in their silky hose as she gave a view of the beige-tan gusset of her pantyhose, stretched around the crotch of her panties.
Lauren stood by the bed and stripped off the dress, revealing a white bra that supported and uplifted her large breasts. The peach coloured lace suspender-belt around her waist held up her stockings and she turned to show the 'whale tail' of her matching pantie thong under the layer of her shiny, nylon pantyhose.
Lauren pushed both hands down the rear of her pantyhose and spread her fingers over the soft flesh of her buttocks. She turned back to face us and pulled her pantyhose down to her thighs, revealing more of her lacy suspender-belt and white panties.
Lauren released the catch of her bra and held her hands over the loose cups as she teasingly stripped it away and posed on the bed to show off her legs in their layers of shiny nylon hosiery.