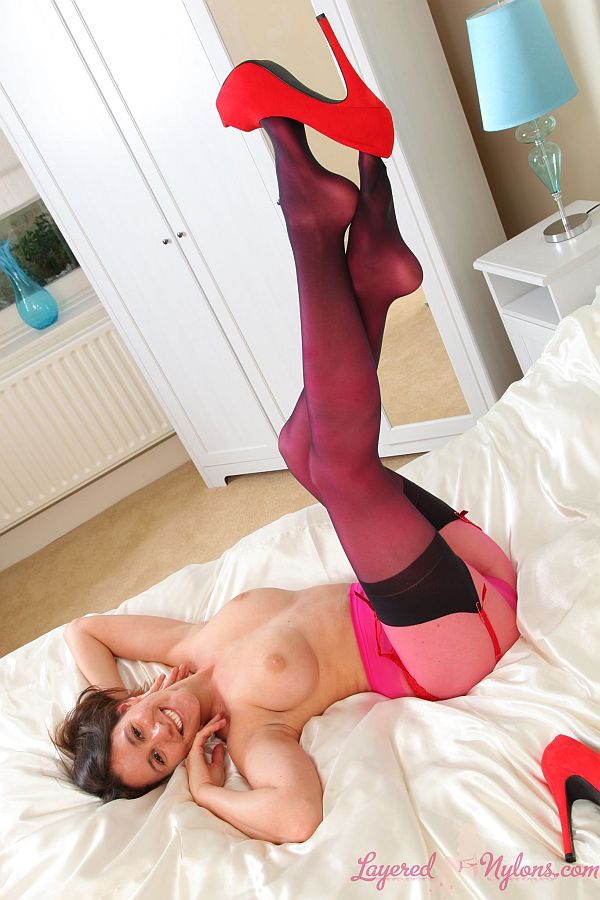 Ulrika always has a big smile as she loves to dress in lingerie and nylon, so she enjoyed wearing these coloured pantyhose, black stockings with some red open-toed heels.
Ulrika stood with one foot placed on the bed and her stocking tops emerged from under her dress, then leaned forward and drew her hands over the surface of her stockings and up her shapely legs.
She stripped off her dress to uncover her petite breasts and revealed she was sans panties under her pantyhose. She was wearing a red lace suspender belt and the suspenders stretched down her thighs to her stockings, framing the thin wisps of her pubic hair behind the sheer nylon of her hose.
Ulrika slipped her hand between the layers of nylon and along her thigh to her knee, so the top of her stockings stretched under the pressure of her forearm, pushed deep inside her hosiery.
Laying back on the bed, she lifted up her legs and pushed off her heels with her toes so they were balanced on the underside of her foot, before removing them completely and displaying her pretty feet.
Ulrika rolled over stretched out her legs as she lay flat to show off her ass encased in pink hose and give a close up view of her feet in their layers of nylon hosiery.