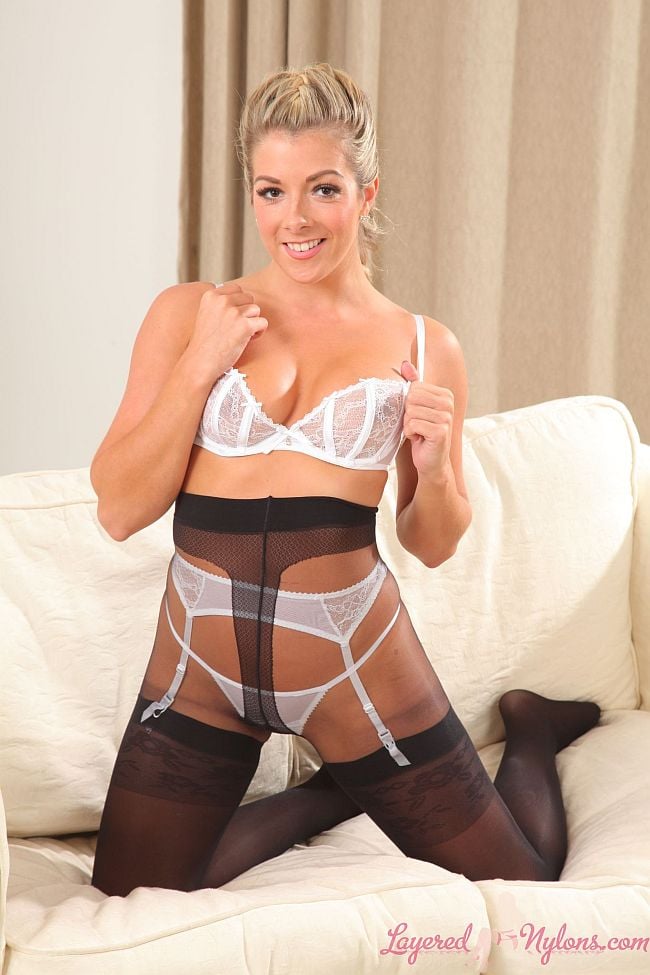 Blonde bombshell Tillie returns to put on a fabulous swap striptease in her layers of stockings and pantyhose in her latest photo-set.
Tillie looked very smart as she posed in her fabulous dogtooth suit, turning to give us a view of her gorgeous ass which looked incredibly sexy in the tight skirt that wrapped around her buttocks.
Taking off her jacket revealed a short, black top that clung to the shape of her lovely her boobs. She reclined on the sofa and opened her legs to give a view of her white pantie thong under a layer so black, sheer nylon pantyhose.
Tillie reached down to unlaced her high-heeled shoes and took them off, then stripped away her black top to uncover a pretty, half-cup, white lace bra. She knelt and pulled the skirt over her gorgeous buttocks, sheathed in their layer of black sheer nylon and stripped it away over her nyloned feet.
Tillie stripped off her bra and posed in her lingerie to show off her lovely all natural tits and thick nipples. She lay back, lifting her legs and drawing her pantyhose down to her ankles, pointing the toes of her pretty feet as she stripped the hose away.
Tillie stood in her stockinged feet and slowly teased the thin white pantie thong around her thighs, bending over as they slipped down her nylon clad legs. Then she drew her pantyhose back on, pulling the waist up high around her middle and posing with the gusset stretched tight around her naked crotch.