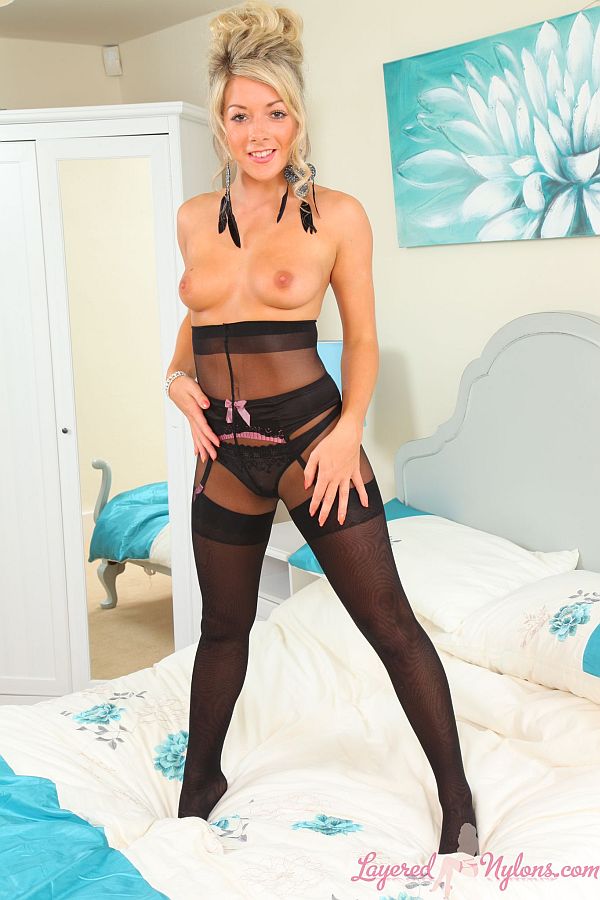 Tillie's sequined evening dress almost reaches to the floor and through it covers most of her body, it invites us to imagine what sexy underwear this pretty blonde is wearing beneath her glamorous attire. Well, you won't have to stay guessing for long…
Tillie slowly teases up the folds of her dress, revealing her black suspenders attached to her stockings, all under a dusky layer of sheer nylon pantyhose.
She begins to strip off her dress, letting it slide down her slender figure and nylon clad legs to the floor. Stepping out of the discarded dress, she turns to show she is wearing a light pink and black polka dot bra and high waist pantyhose, layered over black panties and satin suspender belt with pretty pink bows.
Slipping off her heels, she reclines face down on the bed, then folding back her legs at the knees, she crosses her feet and points her toes in their layers of black nylon hose. Her lovely ass looks amazing encased in a sheath of black nylon that clings to her shapely buttocks, her suspenders pulling taut on the tops of her beautiful stockings.
Tillie kneels to strip away her bra and reveals her all natural breasts and their slightly upturned points that look so alluring. She gets up to stand in her stockinged feet and streches her pantyhose up her naked belly, posing topless in her layers of black lingerie and nylon hosiery.