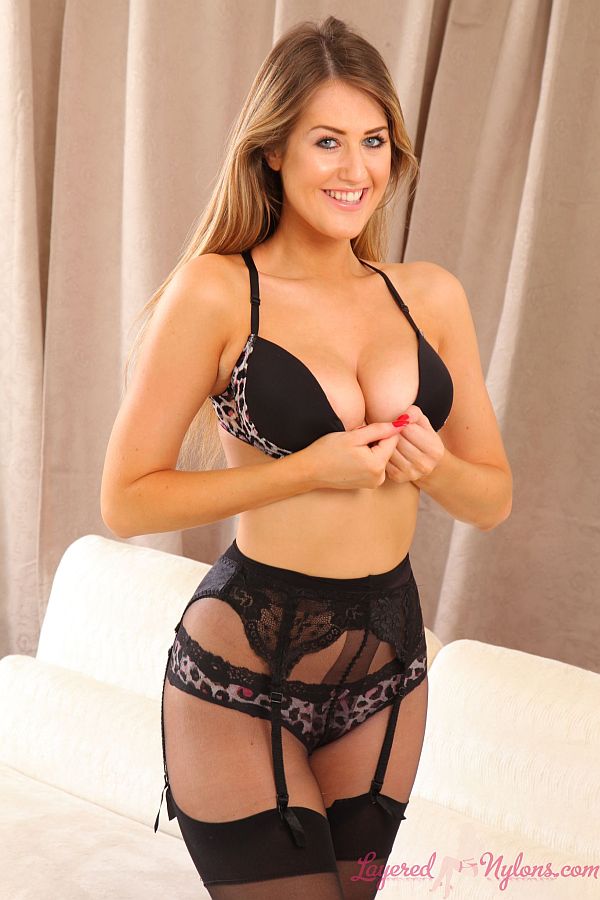 Busty brunette Lola A makes her debut appearance and already is proving to be a big hit with our members, who have expressed their appreciation of her sexy striptease set.
Standing in her stiletto heels with her back to us, she bends forward slightly and her pink mini-skirt reveals sexy glimpses of her black stocking tops. She pulls up her skirt and rests her hands on her buttocks, all nicely clad in lace trimmed panties, under the layer of her sheer nylon pantyhose.
She hooks her thumb under one of her black suspenders and stretches it outward, making the clasp pull on the the top of her stockings, before letting it snap back into place against her pantyhose thigh.
Lola strips off her tight fitting black top and pink mini-skirt, revealing a black bra and an alluring, black lace suspender belt that hugs the curves of her shapely hips. Running her fingers through her long hair, she lifts it up above her head as she stands in her stiletto heels, displaying her fit body in sexy black lingerie and layers of nylon.
Reclining on the sofa, she slips off her heels and lets them dangle from her toes, while she rubs the arches of her feet in their layers of dark nylon. Eventually discarding the shoes, she stretches out her legs and rubs them together so they whisper softly as her nylons make contact and brush against each other.
Stripping off her bra, Lola carefully conceals her nipples with her palms and reclines on the sofa, showing off her shapely ass and legs in their layers of black nylon hosiery.