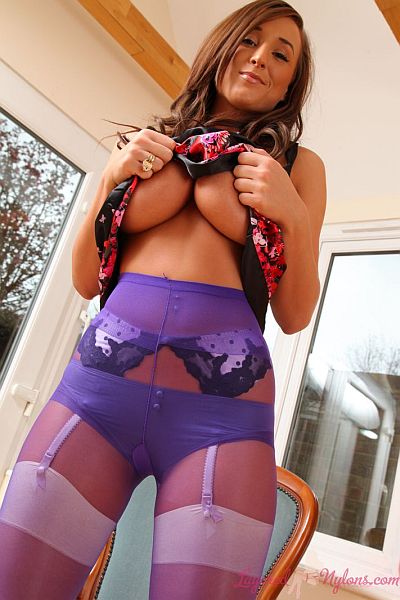 Gorgeous Stacy P had never tried wearing pantyhose over her stockings before, but she really enjoyed the experience when we photographed her for this stunning set of images here at Layered-Nylons.
Stacy's purple Lycra pantyhose fitted so perfectly over her sexy tight panties, polka dot suspender belt and white Le Borget 'Voilance' satine stockings. The sensation of being encased in double layers of nylon clinging to her curvaceous waist, hips and thighs put an unexpected smile on her face as she continued to sit and pose in a variety of positions.
"There's something quite naughty about putting my pantyhose over the top of my stockings, I don't know why I hadn't tried it before," Stacy told us, her hands caressing her thighs and feeling the bumps of her suspenders through the nylon mesh of her pantyhose. "I love how it all feels so tight against my skin, as if I'm being hugged by my hose and stockings all at once."
Stacy stood and removed her dress to let us see more of her fabulous breasts and gave us a closer view of her tight little panties which looked so snug around her hips. Then laying on the rug she removed her shoes and rubbed her nylon covered feet together; posing to give us a rear view of her lovely ass in those tight panties that looked so fitting around the cheeks of her lovely ass.
See Stacy P in a layer of purple nylon pantyhose over panties, white stockings and suspenders in this 132 image photo set at Layered-Nylons.