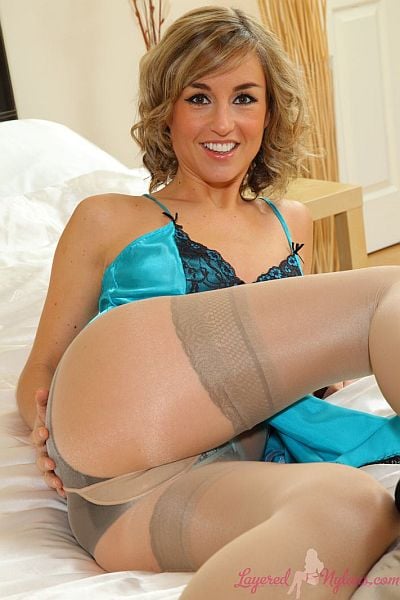 Melanie was relaxing at home and almost ready for bed, when she thought it would be a good idea to wear her pantyhose over the top of her stockings for a bit of extra warmth.
She decided to wear some tan Wolford satin touch tights over her black panties and beige glossy lace topped holdups, and completed her outfit by putting on a blue satin slip and high heels.
Melanie lay back on the bed and relaxed, admiring how her legs looked in those layers of stockings and pantyhose. She then kicked off her shoes to flex her toes and dainty feet encased in their cocoon of delicious warm nylon.
Next, she pulled the satin slip off over her head to let her breasts swing free. Then feeling frisky, she rolled on the bed enjoying the feel of the bedsheets against her naked boobs and her legs sheathed in sensuous nylon.
Melanie enjoyed the erotic sensation of being layered in pantyhose and stockings, and the way it clung tightly to the contours of her hips and thighs.
See more of Melanie getting frisky in her nylon pantyhose and stockings in this 133 image photo set at Layered Nylons.