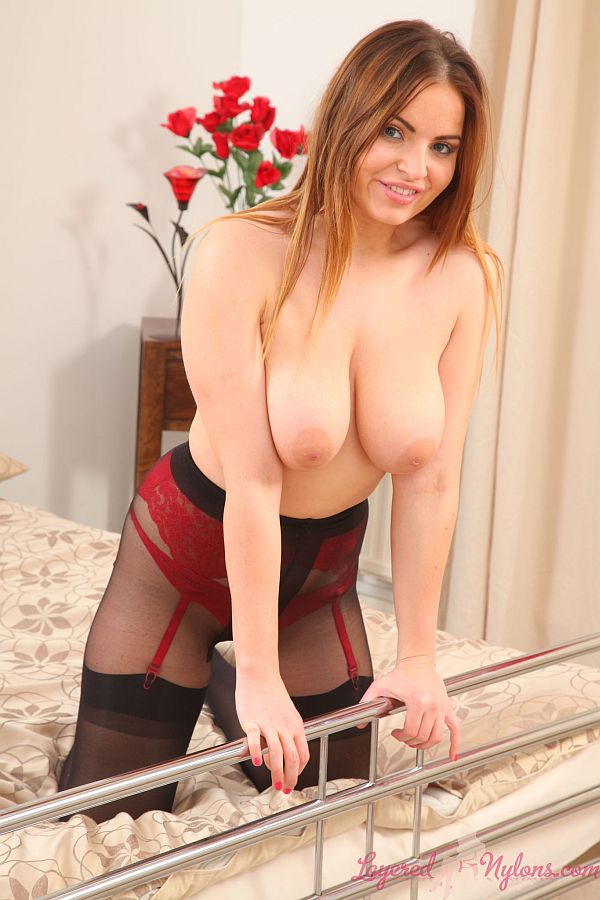 Busty brunette Taylor showed off her fabulous figure and legs clad in foot less, spandex leggings and black suede heels at the start of this photo session. Her legs looked so sexy in those leggings as she lay back on the bed and lifted them up to point her heels, the spandex stretching tightly around the globes of her fabulous buttocks.
Taylor slipped off her heels and hooked her thumbs into the waist of her leggings, then slowly slid them down her legs to reveal she was wearing red suspenders and black stockings, under a layer of sheer nylon pantyhose.
Taylor stripped off her white t-shirt, uncovering a red bra that uplifted and supported the fleshy mounds of her bouncy tits. She pushed her tits together between the sides of her arms, causing them to squeeze upward to present the voluptuousness of her milky cleavage.
Slipping the straps of the bra over her shoulders, she held the loose cups in place as she squeezed them against her lovely large boobs. Stripping away the bra, her soft and pendulous breasts hung from her chest as she posted topless in her layers of red suspenders, nylon stockings and pantyhose.