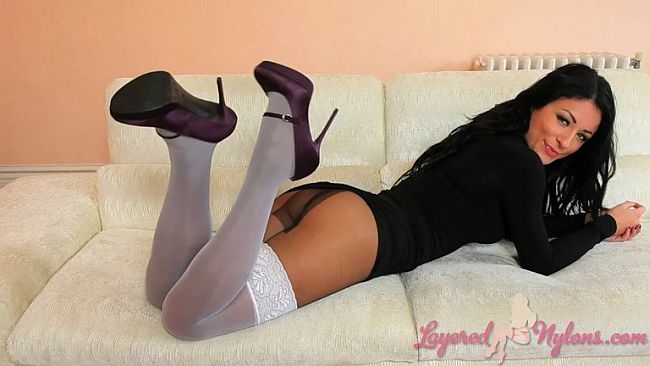 'Hi Guy's. I'm Tammy, I hope you like my video,' Tammy waved as she stood in a short black dress which barely covered her thighs, covered in black nylon pantyhose and a pair of white, hold-up stockings with lacy tops.
Tammy ran her hands over the contours of her shapely body as she turned to give us a view of her legs from front to back. Then she sat and caressed her legs, drawing her hand up her ankles, over her knees, then up to the white lace tops of her stockings, which were layered over her sheer nylon hose.
She unbuckled her purple heels and removed them, letting let one dangle from her toes, before dropping to the floor. Then she got up to stand in her stockinged feet and lifted off her black dress to reveal she was wearing a purple, satin bra, which lifted and separated her ample cleavage.
Tammy turned and gave her ass a sexy wiggle, the skimpy sheer panties around her hips so alluring under her sheer to waist pantyhose. She then slipped the straps of her bra over her shoulders to display her all natural breasts with their thick, erect nipples and lay back on the sofa to pose topless in her layers of nylon hosiery.