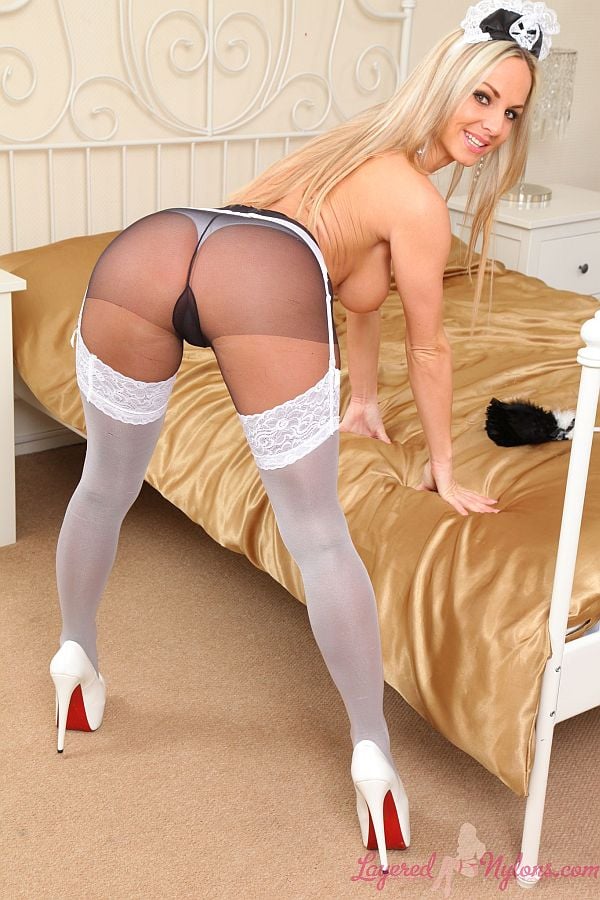 Tammy was in the mood for a bit of spring cleaning dressed in her sexy French maids uniform, which was short enough to give a tantalizing glimpse of her lacy white stocking tops and suspenders as she stood by the bed.
Lifting up the short, black satin skirt revealed that her stockings were layered over black, sheer nylon pantyhose, under which we could see she was wearing white panties.
Tammy lay on the bed with her legs open to let us see the crotch of her pantyhose and the black, sheer oval of the gusset patch, which covered the triangular shape of her panties as they disappeared into the cleft of her buttocks.
Slipping the straps of her uniform over her shoulder, she pulled down the front to reveal her all natural breasts, then laying forward she framed her boobs with her arms so they looked even more prominent.
Tammy removed her white heels and lifted her legs up and crossed them at the ankles, then pointed her feet and wiggled her toes as she gave a close up view of the soles in their layers of opaque nylon.
Kneeling on the bed, she gave a view of her fabulous ass sheathed in cling nylon,  framed by the webbing of her white suspenders, which stretched around her buttocks and pulled taut on the tops of her pretty white stockings.