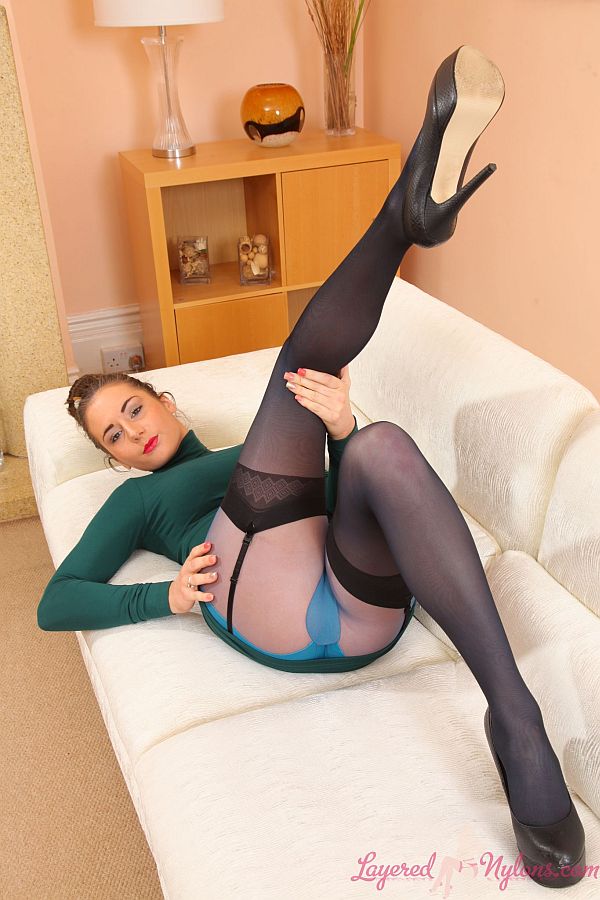 Laura was wearing a long dress with a polo neck and long sleeves, which clung to the outline of her shapely her figure and through which the bumps of her suspenders were tantalizingly visible.
Laying back on the sofa she pulled the hem of her dress up her thighs to reveal she was wearing light blue sheer nylon pantyhose under her layer of black suspenders and stockings.
Laura lifted and admired her long shapely legs, holding and pressing them together as she pointed her stiletto heels at the ceiling, her suspenders stretching over her thighs and pulling on the tops of her black nylons.
Stripping out of the dress revealed she was wearing a blue, lacy bra, which matched the panties under her pantyhose, and a black, lace suspender belt slung around her hips that framed the area of her crotch.
Laura teased out of her bra and uncovered her well formed, all natural breasts, and then slipped off each of her heels in turn and lay on the couch to pose in her layers of lingerie and nylon.