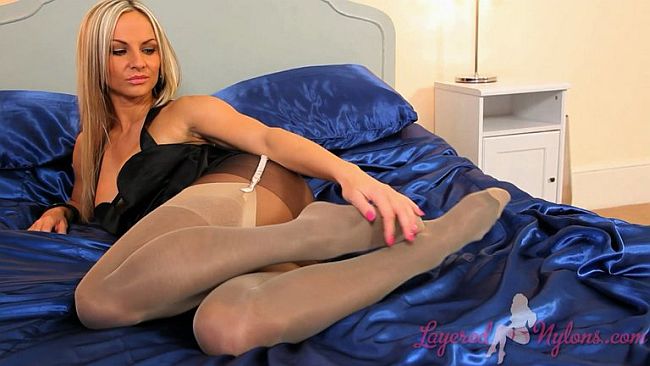 Tammy snaked her body in a sensual rhythm, running her hands over the outline of her curves in the black satin dress that clung to her shapely figure.
She turned and lifting up the hem of the dress, revealed she was sans panties under the layer of her black, sheer nylon pantyhose. She adjusted her suspenders and slipped her fingers between the layers of her nylon hose, moving them playfully around the tops of her beige nylon stockings.
Tammy climbed onto the bed and knelt to give us a rear view as she caressed her fabulous buttocks sheathed in black, sheer nylon; her white suspenders straining on the tops of her stockings as she wiggled her sexy ass from side to side.
Tammy slipped off her heels and brushed her legs together so they made the rasping sound of nylon on nylon. She opened her legs to reveal her nyloned crotch and slid her hands down to her ankles and caressed her feet in their layers of nylon hosiery.
Tammy slipped off her dress and cupped her all natural breasts in her hands, uplifting and pushing them together, her fingers lightly playing over the erect nipples. Laying back she opened her legs wide and undulated her hips as she writhed on the bed in her suspenders, nylon stockings and pantyhose layers.