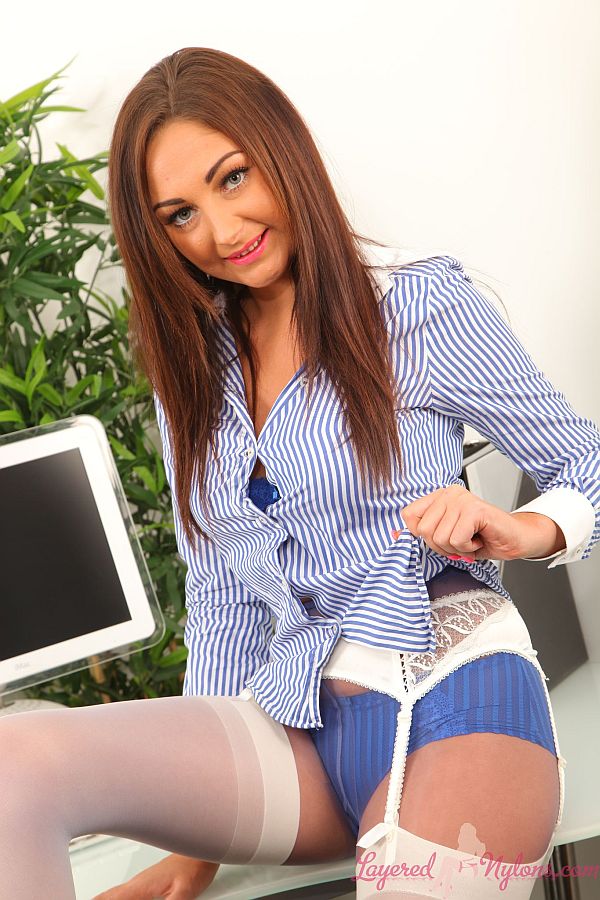 Lauren, our stylist here at Layered-Nylons, asked if we wouldn't mind doing a photo-shoot of her teasing in her underwear. Seeing all these girls having fun in their lingerie everyday and getting paid for it, she quite fancied having a go at being a glamorous model for a change.
Wearing a striped shirt and blue pencil skirt, we could see the bumps of her underwear through the tight fabric that wrapped around her thighs. She leaned back against the edge of the desk and slowly pulled her skirt up to reveal white suspenders and stockings, framing the crotch of her blue panties under a layer of sheer nylon pantyhose
Lauren unbuckled her belt and turned as she unzipped her skirt, pulling it over the cheeks of her ass, sheathed in sheer nylon, to give us a great view of those sexy, blue striped panties. Stripping off her shirt revealed she was wearing a matching, blue striped bra and white suspenders that pulled taut on the tops of her nylon stockings.
Lauren knelt on the desk to show off her fabulous ass, encased in it's layer of sheer nylon hose and more of her panties, clinging tightly around her bum. She got off the desk to stand with her back to us and releasing the catch of her bra, she turned around with her hands covering her breasts and posed in her white suspenders, blue panties and layers of nylon hosiery.