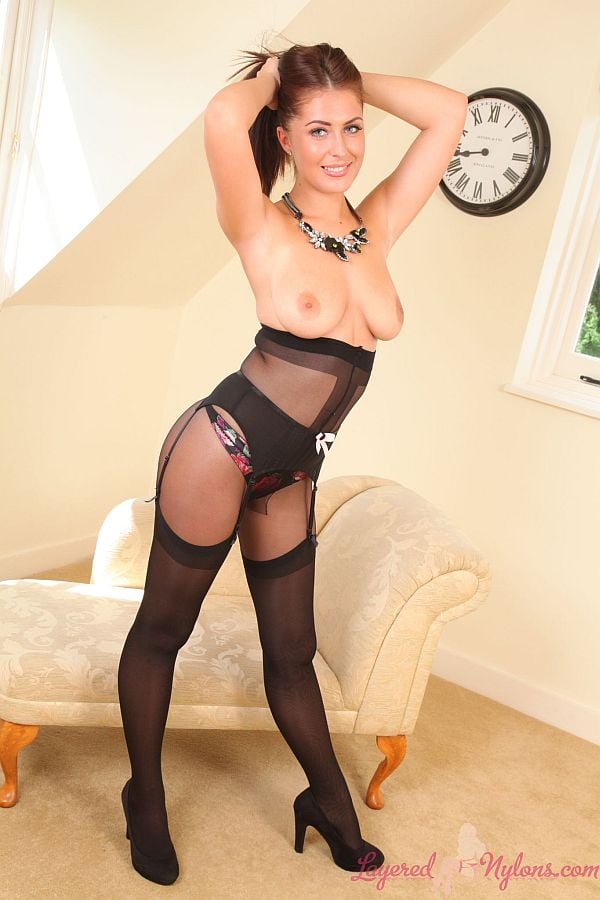 Susie Grace looked stunning as she posed in her tight fitting top through which we could see her bra, a pink skirt that clung to her ass and legs in black nylon at the start of this photo-session…
Susie has that wow factor, as you will see when she lifts up her tight skirt to reveal sexy black suspenders attached to the tops of her stockings, all nicely framing the floral pantie thong under the layer of her sheer nylon pantyhose.
Hooking her thumbs into the waist of her skirt, she slowly pulled it over her ass, which looked so enticing as she bent over to strip the skirt down her long, shapely legs. Then kneeling on the couch, she tugged on one of her long black suspenders, making it pull taut on the tops of her stockings and then snap back against her thigh.
Sitting on the arm of the chair with her legs open, she slipped both of her hands between her stocking tops and the layer of pantyhose, causing her suspenders to stretch as she pushed her hands down her thighs.
Stripping off her top revealed a matching floral bra, then slipping the straps over her shoulders she removed the bra and freed her pendulous, all natural breasts. Susie then stood and gripping the waist of her pantyhose, she stretched it right up her belly and over the mounds of her tits, as she posed in her lingerie and nylon hosiery.