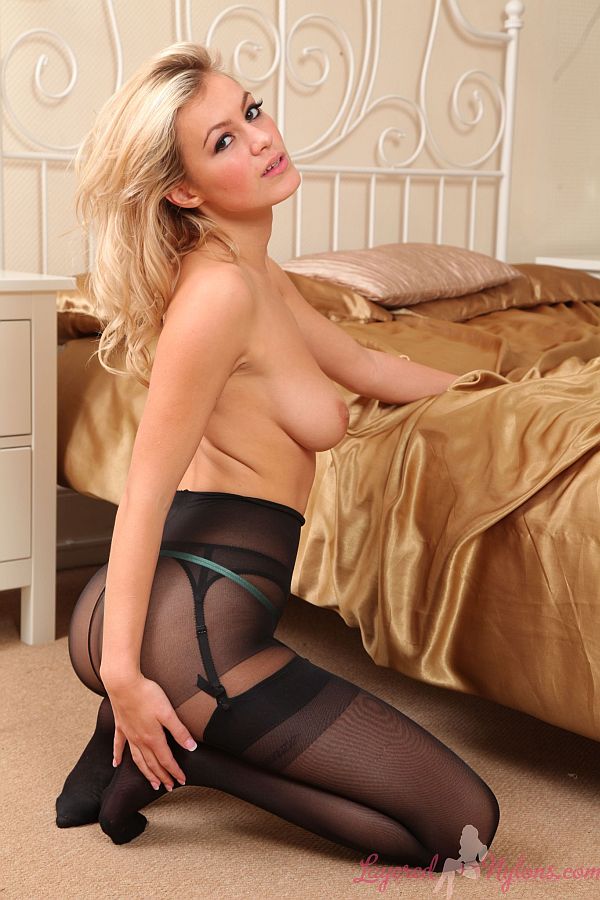 Summer is a fabulous looking girl and is a lot of fun to be around, especially when she is dressed like this in a tight fitting top and short leather skirt, her legs clad in black nylons and topped off with some heels.
'Do you think this skirt its a bit too tight?' She asked, and turning around she looked over her shoulder and down to where the bumps of her suspenders could be seen through the tight leather of her skirt, wrapped around her ass.
We thought it all looked fine, but then again we would say that, knowing how many of you like to see the outlines of suspenders through clothing, and this was just perfect.
Summer stripped off her top and skirt to show us she was wearing a turquoise coloured, frilly bra and a matching pantie thong, which she was wearing under black, sheer to waist nylon pantyhose.
Kneeling on the bed she stripped off the bra to uncover the soft mounds of her all natural breasts, and then lay with her legs open to give us a view of her frilly panties framed by the black lace suspender belt attached to the tops of her stockings.
Summer slipped off her shoes and dangled them from her feet, then got up to bend over for a view of her nyloned ass and legs as she stood tip-toe in her stockinged feet.