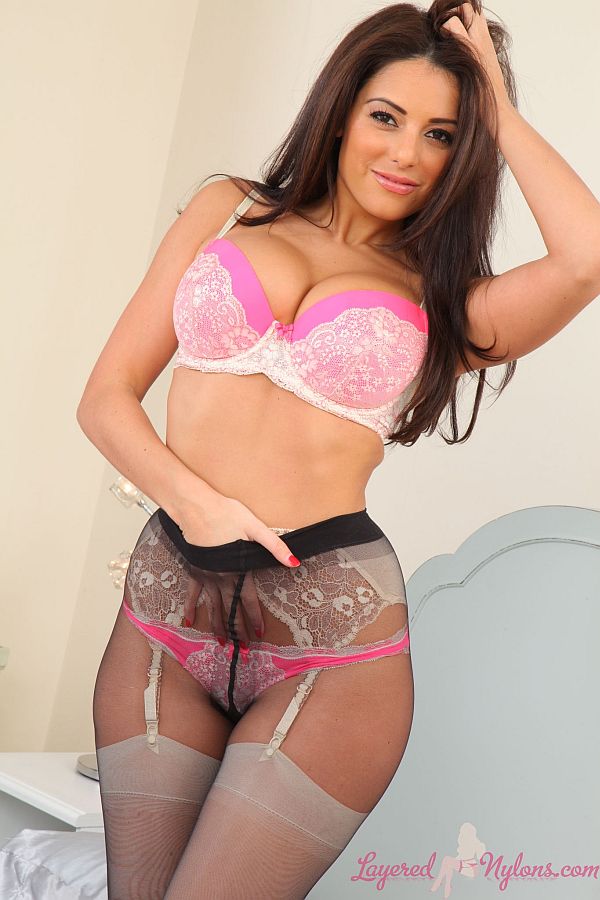 Charley's tight fitting dress adhered to the outline of her shapely figure, the bumps of her suspenders tantalizingly visible as the material clung around her thighs.
Charley turned around to give us a rear view, her hand brushing against her thigh as she slowly lifted the hem of her dress, revealing a glimpse of cream suspenders attached to white stockings, layered over black, nylon pantyhose.
Kneeling on the bed she pulled down her dress to undercover a pink and while lace bra, which supported and pushed the cleavage her large breasts together. She then lay back and removed her dress by pulling it down her legs, revealing a lacy suspender belt and matching pink and lace panties, under the layer of her sheer nylon tights.
Charley sat on the edge of the bed and slipped off her shiny, platform heels, then extended her leg towards us for a close up view of the soles of her feet clad in their layers of nylon.
Standing on the bed, she pushed her hands down the rear of her pantyhose through which we could she her saucy, pink panties, as she gripped the firm cheeks of her sexy little ass and pulled them slightly apart.
Charley teased the straps of her bra over her shoulders and down her arms, then undoing the eyelets it snapped open and fell away. She covered her voluptuous breasts as she turned back around, then removed her hands and pressed her boobs together between her arms and posed topless in her layers of lingerie and nylon.