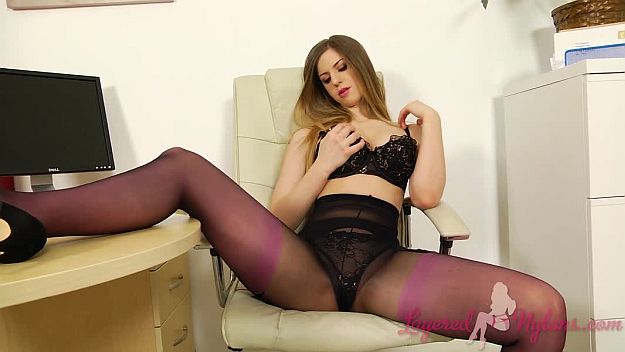 Pretty secretary Stella Cox teases in her lingerie and nylon as she strips in the office in her naughty debt video for Layered-Nylons.
Stella looked so sexy in her candy pink striped shirt, her long hair falling over her shoulder as she turned her head and smiled. She bent over and gave her ass a wiggle as she felt her bum in the black skirt that wrapped tightly around her shapely buttocks.
Stella sat on the desk and unbuttoned her shirt, opening it slightly to give a teasing glimpse of her lacy bra. Licking her lips she pushed her breasts together inside her shirt and squeezed the flesh of her cleavage. She reached down and pulled the skirt back over her thighs, then lifted her legs and rubbed them together whilst showing off her sexy, stiletto heels.
Stella stood in her heels with legs apart and swayed as she opened the front of her shirt, then juggled her ample boobs inside the cups of her black lace bra. Pulling up the back of her skirt and bending over, she caressed the pert cheeks of her ass, bound by the black suspender straps attached to pink stockings, under a layer of sheer nylon pantyhose.
Stella put on a slow and seductive striptease as she removed her top clothes, then stripping off the bra she fondled her gorgeous all natural titties and posed in her lingerie and layers of nylon hosiery.