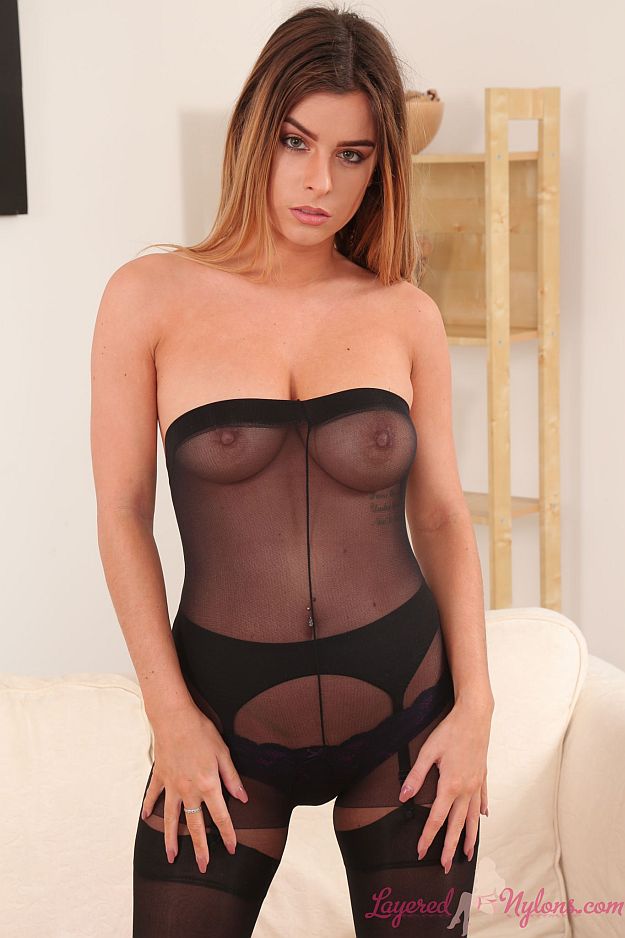 Busty brunette babe Rae reclined on the sofa posing in a dress that clung to her bust, hips and ass, her legs so alluring in black hosiery and patent leather stilettos.
Kneeling, she pulled up the back of the dress and revealed her ass in a layer of sheer nylon pantyhose, under which she wore a black pantie thong, suspenders and stockings. The pantie thong separated her buttocks, which were also nicely bound in black suspenders attached to seamed nylon stockings.
Rae stripped off her dress, revealing a purple satin and blue lace bra that uplifted her boobs and gave a view of her ample cleavage. She lay back and extended her legs to display her stiletto heels, then thrust her arm deep inside her pantyhose and moved it under the stretchy layer of nylon that covered her lower body.
Rae stood in her stiletto heels and stripping off her bra she teasingly held her hands over her breasts before revealing them in full view. She pulled the pantyhose up her belly and right over her fabulous tits, the thick puffy nipples compressed under the stretchy, sheer nylon. Taking away her hands, the hose remained in place over her shapley boobs while she posed in her layers of lingerie and nylon hosiery.