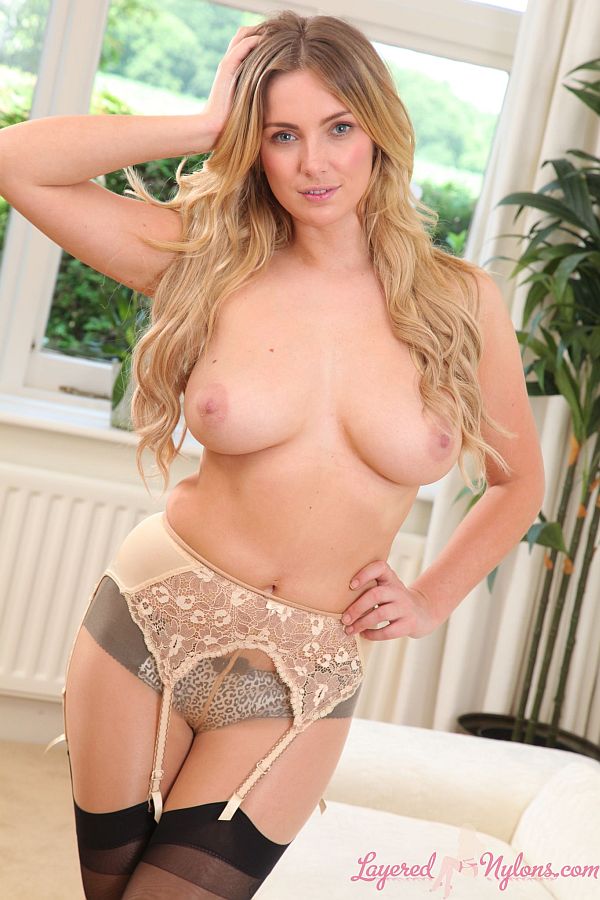 Stacey is a very natural looking girl with gorgeous blue eyes and long, blonde hair that flows over her shoulders and firm bust, swelling under the cotton material of her white shirt.
Her dress looked so tight around her shapely figure, the outline of her underwear and the bumps of her suspenders visible under the material as it clung to her thighs.
Stacey reclined on the sofa and stretched out her legs, pulling the hem of her skirt back over her thighs, to reveal more of the cream coloured, suspenders pulling taut on her sexy nylon stockings tops.
Stripping off her skirt, she turned around to give us a rear view, revealing her lacy suspender-belt layered over light tan pantyhose, under which she was wearing a pair of leopard print panties.
Stacey stripped away her shirt, to uncover the matching print bra that supported her sumptuous breasts, then slipping off her heels, she lay back on the sofa and lifted up her legs to give close-up views of her pretty feet in their layers of nylon hosiery.
Stacey hooked her thumbs under the straps of her bra and slid them over her shoulders, loosening the bra and holding the cups in place over her boobs, before finally stripping it away to fully-reveal the mounds of her voluptuous tits and their large pink nipples.