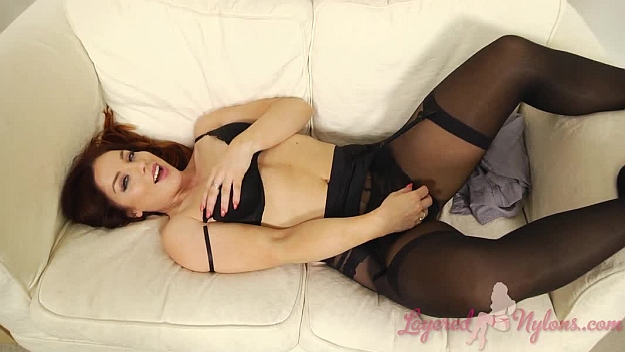 'Hi guys, my name is Scarlett T and I'm here to striptease for you,' Scarlett said as she posed seductively in a tight fitting top and pencil skirt, her shapely legs in black hosiery and stiletto heels.
Scarlett paraded in her seductive outfit, showing off her fabulous curves and flicking her long red hair with her fingers. She reclined on the sofa and slowly raised the hem of her skirt, revealing black suspenders and stockings, layered over sheer nylon pantyhose that clung to her shapely thighs.
Scarlett knelt and showed the black lace French knickers that clung to her shapely buttocks layered in sheer nylon hose. Sitting back with her ass resting on the sofa cushions between her heels, her black suspenders stretched taut around her thighs and pulling on her stocking tops. Then she ran her thumb under one of her black suspenders and let is snap back against her thigh and gave her ass a sexy wiggle.
Scarlett stood and stripped her skirt down her legs, bending right over to give us a view of her fabulous round ass, bound by the straps of her black suspenders straining on the tops of her stockings. She turned and removed her shirt to pose in her black bra, while pulling the fabric of her stretchy nylon pantyhose around the naked flesh of her tummy.
Scarlett stood with her back to us and looked over her shoulder as she stripped off her bra, teasingly concealing her breasts with her forearms as she turned. She uncovered her tits and swayed gently as she posed topless and ran her hands over her delicious curves in their layers of lingerie and nylon hosiery.