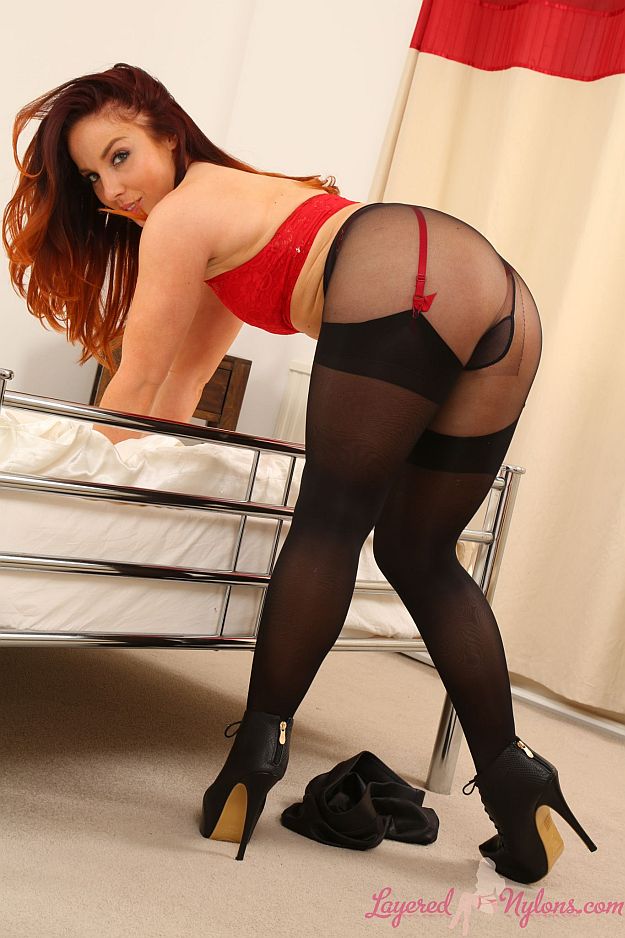 Scarlett is one of the hottest redheads we have on Layered-Nylons and shows off her fabulous legs in black hose and heels in her latest photo-set
Posing in her red lace top, Scarlett sat on the end of the bed, her skirt pulled up around her thighs to reveal red suspenders and black stockings, under a layer of sheer nylon pantyhose. She stood, bending over as she pulled down her skirt, showing her nylon clad ass and red suspenders, straining on her stocking tops.
Scarlett lay on the bed and opened her legs, giving a view of her pantyhose gusset, stretched over the crotch of her red lace knickers. She slipped her hands inside her hose and they pushed against the stretchy, sheer nylon, as she spread her fingers over her inner thighs.
Scarlett slipped off her heels and lifted her legs, holding them together and crossed at the ankles to show her pretty feet in their layers of nylon hosiery. She rolled over and knelt with her ass tilted upwards, her hand caressing her shapely buttocks encased in black nylon pantyhose.
Stripping off her top, Scarlett stood at the end of the bed in her stockinged feet, pulling her pantyhose around her hips and bending over while she slipped her hands down the back of her tights, feeling the soft, warm flesh of her shapely buttocks.