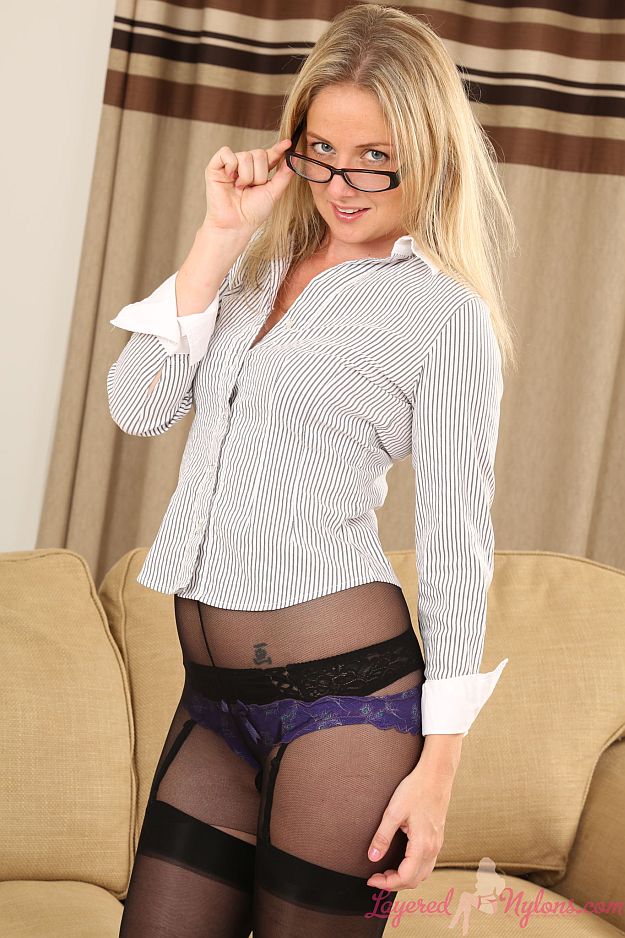 Blonde Secretary Nikki looked over the rim of her glasses, while posing in her striped shirt and black skirt, so short it revealed her black stocking tops. She unzipped the front of her skirt, revealing pretty, purple silk panties and black suspenders attached to her stockings, under sheer nylon pantyhose.
Kneeling on the sofa, Nikki looked over her shoulder, hand caressing her ass in clad in purple panties, black hose and suspenders that stretched around her thighs to her stocking tops. She stripped off her shirt to reveal her purple bra, and pulled on her pantyhose so the gusset stretched tight around the crotch of her matching panties.
Nikki lay back on the sofa and lifted her long legs, holding them close together and crossing her ankles to show her sexy, stiletto heels. She wrapped her arms around the back of her thighs and hugged them tight, her suspenders straining on the tops of her black nylon stockings.
Nikki stood in her heels and slipped the straps of the purple bra over her shoulders, holding the loose cups in place over her breasts. Finally stripping away the bra, she covered her boobs with her hands while posing in her lingerie, stockings and pantyhose layers.