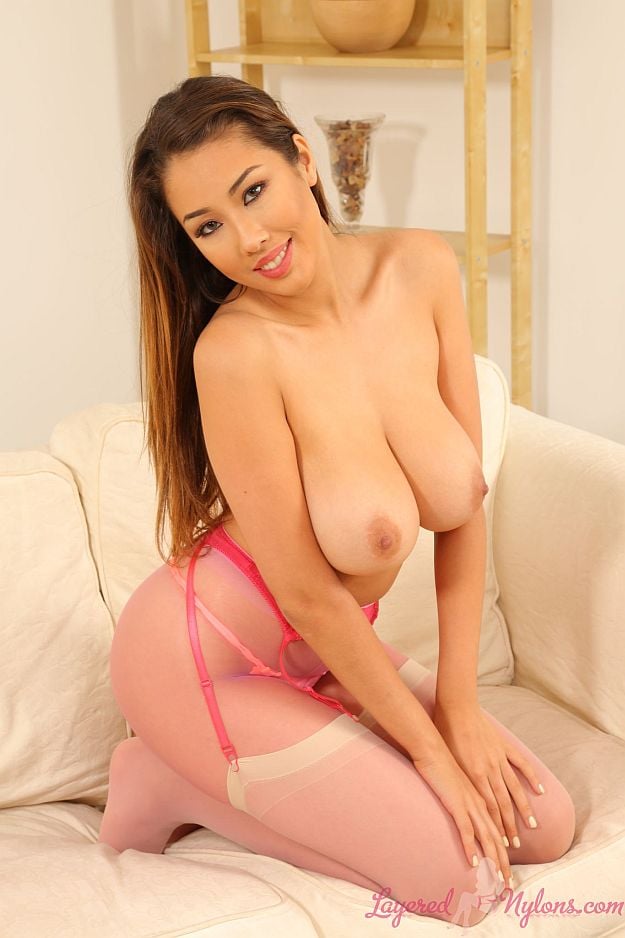 Gorgeous Asian model Sarah Turner short pink dress flared round her thighs as she turned and gave a glimpse of her cream colored stocking tops.
Kneeling on the sofa she flipped the skirt around her hips, revealing her bum sheathed in pink pantyhose. The 'whale tail' of her flamingo pink pantie thong slipped between the hemispheres of her buttocks under the layer of sheer nylon tights.
Sarah removed her open-toe heels and got up to stand in her stockinged feet, lifting the folds of her dress to show the hot pink suspender-belt around her waist and the taut suspenders attached to her cream stockings.
Stripping off the dress she uncovered a gorgeous peach-pink bra, then pressed her forearms against her breasts so the ample flesh of her cleavage spilled over the cups.
Sarah slipped the straps of the bra over her shoulders and teasingly held the cups in place over her fleshy boobs. Stripping the bra away, her pendulous tits swung freely and hung down her chest as she posed topless in her layers of lingerie and nylon hosiery.