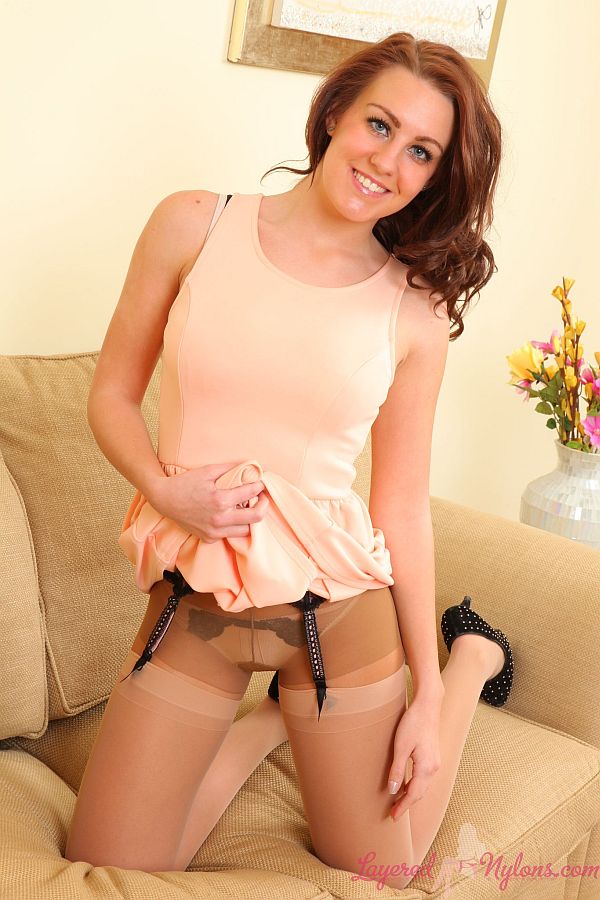 Sammy gave naughty smile as she slowly lifted up her peach coloured dress, revealing black suspenders attached to pink stockings, layered over beige nylon pantyhose.
Holding up the front her dress, she gave a tantalizing glimpse of the oval patch of her pantyhose gusset, contrasted against the pink of her panties and stretched under the crotch.
Sammy stripped off her dress, revealing a pink bra with black lace trimming that also matched her panties. A delicately laced suspender belt stretched around her hips and the suspenders attached to the tops of her tan nylon stockings.
Taking off her heels, she stood in her stockinged feet, then slipping the straps of her bra over her shoulders, she stripped away the cups to expose the fullness of her all natural boobs.
Sammy reclined on the sofa and lifting up her legs she crossed them at the ankles, giving a close up view of the soles of her feet encased in their opaque layers of pink and beige nylon hosiery.