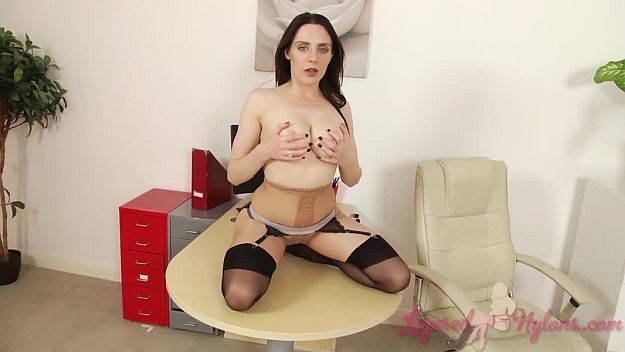 Secretary Samantha looked fabulous as she posed seductively in her long green dress, her bust outlined through the clingy material, a glimpse stocking top showing through the side split open above the flesh of her thigh.
Sitting in the chair, she caressed her legs and extended their length, resting them on the desk-top and displaying her feet in their sexy stiletto heels. Drawing back one leg, she gave a tantalizing glimpse of her pantyhose gusset and pantie crotch, under the layer of her sexy nylon hosiery.
Samantha swivelled in the chair and parted her legs to reveal more of her pantyhosed crotch, slipping her fingers between the layers of nylon around her thighs and the tops of her black stockings.
Kneeling in the chair, she leaned over the back and pulled up the back of the dress and caressed her fabulous ass, sheathed in nylon; the long black suspender straps stretching around the curve of her buttocks, tugging on her sexy, stockings tops.
Samantha stripped off her dress and sat back in the chair, fondling her boobs through the cups of her light cotton bra. She removed the bra and climbed onto the desk, posing topless with her hands sweeping over her naked chest, lifting and massaging the pale flesh of her all natural breasts.