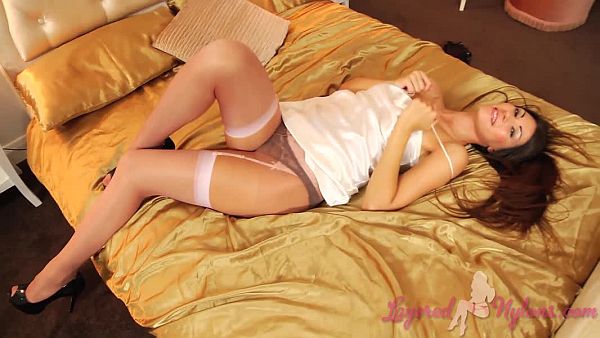 'Hi guys, it's Sabrina again, I hope you like my new outfit,' said our gorgeous brunette as she posed in her satin lingerie, with her long legs in silky pantyhose, layered over white stockings and suspenders.
Sabrina rubbed the slinky material of her black satin negligee and white satin slip against her body, lifting it up to brush her fingers over her taut suspenders attached to her stockings, under the layer of her tan nylon tights.
Sliding onto the silky sheets of the bed, she moved sensually as she displayed her rear end and gave a tantalizing glimpse of black lace panties under her sheer pantyhose. The satin negligee slipped from her shoulders and down her arms as she caressed the soft layers of nylon that covered her shapely legs.
Laying on her back, her long hair sprawled across the silky gold sheets behind her head, she lifted up her legs in their lustrous nylon hosiery and brushed them together in a graceful movement, causing her suspenders to stretch and pull taut on the tops of her white nylon stockings.
Sabrina pulled the slinky, white satin slip, over her head and revealed her slender body, petite all natural breasts and their erect brown nipples. Then slipping off her shiny black heels, she lay back once more and lifted up her legs to give close-up views of her feet and flexed her toes in their soft layers of nylon hosiery.