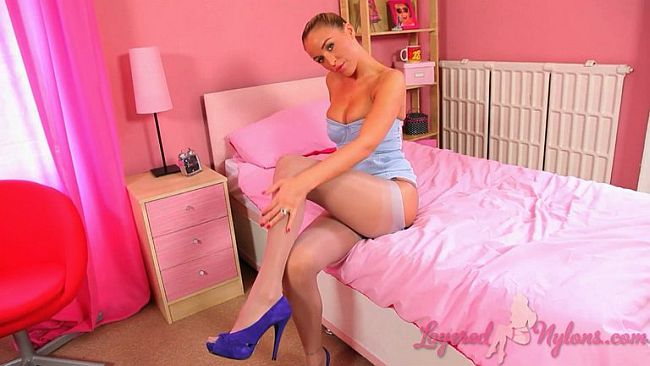 Rosie lifted up her short, light blue dress to reveal her matching stocking tops, giving a glimpse of the black pantie thong she was wearing under the tan gusset of her sheer hose.
Sitting on the edge of the bed she ran her hands over her legs in their layers of shiny, sheer hose, then dangled her heels from her toes before slipping them off her nylon covered feet.
Rosie unzipped the back of her dress, then turned to pull it over her ass in it's layer of shiny hose and revealed more of her skimpy, black lingerie, under her high waist, sheer nylon tights.
Kneeling on the bed, she gave a view of the oval patch of her hose stretched over her pantie crotch and ran her hands over the curves of her buttocks, sheathed in their silky to the touch nylon.
Rosie fondled her pendulous, all natural breasts and squeezed them together, as she posed in her lingerie and layers of shiny nylon hose, reflecting soft, shimmering bands of light up her shapely legs.