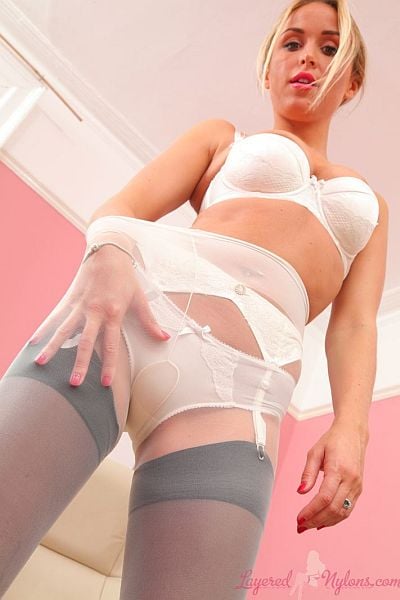 As secretary Rosie sits in her chair with legs crossed you'd be forgiven for thinking she was wearing an opaque pair of grey tights. But as she parts her legs to slowly tease up her skirt, you'll see she's actually wearing a layer of white nylon pantyhose over black stockings.
Rosie peers over the rim of her spectacles as she seductively removes her jacket, then stands to unzip her skirt to reveal she is wearing almost sheer white panties and a suspender belt under her layer of hose.
Stripping off her top to uncover a pretty, white uplift bra, she turns her back and slips the straps over her shoulders to remove it, then sits down to display her naked breasts.
Extending her legs she dangles her heels from the tips of her toes and then lets her shoes fall away. She then kneels in the chair to give a rear view as she touches her pantied ass encased behind a layer of tight nylon hose that stretches over the the flesh of her shapely buttocks.
See secretary Rosie teasing in her layer of nylon pantyhose over stockings and suspenders in this 126 image photo set Layered-Nylons