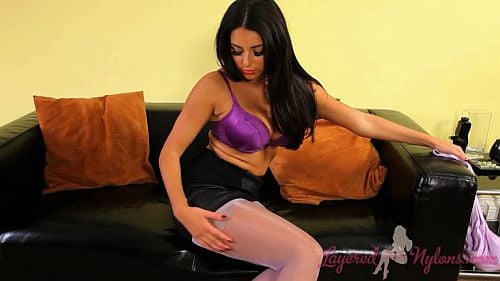 Charley looked incredibly sexy as she swayed in her stiletto heels, then reached down to run her hand up her legs in their shiny sheer tights and over the cheeks of her shapely ass in a tight leather skirt .
Iridescent bands of light shone over the surface of her nylon hose as she turned around to pull up the skirt and reveal that she was actually wearing a layer of delicate, lilac coloured hose over beige stockings. The combination of colours blended perfectly when worn together and gave off a warm glow that made her legs look very enticing.
Charely raised her arms and lifted her skimpy lilac top over her head to reveal she was wearing a magenta coloured satin bra which uplifted her boobs and made her cleavage look very tantalizing as she stood and leaned over to pull down her skirt.
Letting the skirt fall to the floor and pool around her heels, she kicked it away to one side and stood in her layers of nylon under which we could she was wearing lacy purple panties to match the rest of her outfit.
Charely turned her back to us and faced the sofa and reached behind to unhook her bra, then massaged her breasts through the soft, satin cups as she held them in place. Casting the bra to one side, she held her hands over her breasts as she turned back around and running her finger under the waistband of her pantyhose she let it snap back in place.
See busty raven haired beauty Charley teasing in her shiny nylon pantyhose and stockings video at Layered-Nylons.