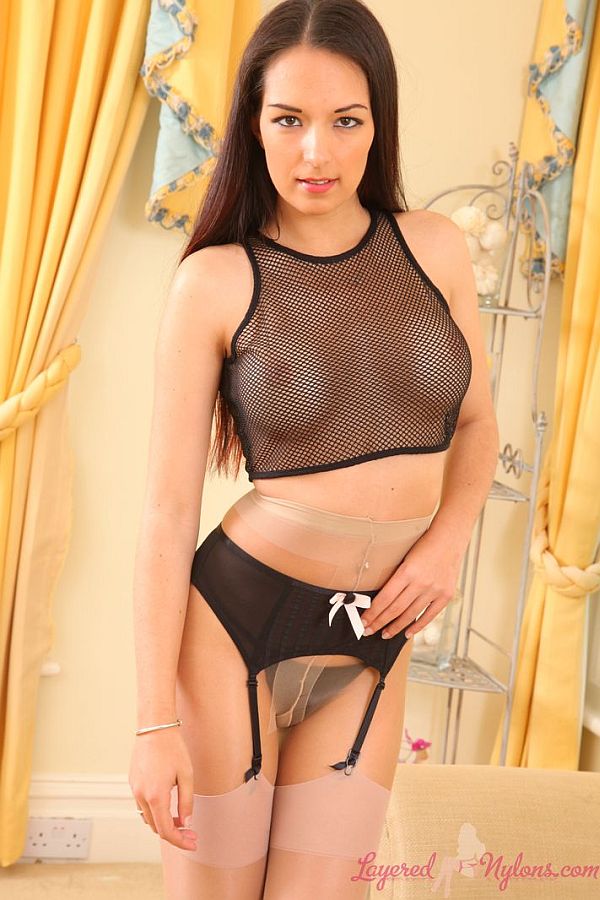 Rebecca's long brunette hair fell over her shoulders and covered her breasts, which lay under a revealing, fishnet net top. She flaunted her slender figure, turning to give us a view of her sexy ass and the outline of her suspenders, noticeable under the tight material of her black pencil skirt.
Rebecca reclined on the sofa and slowly edged up the hem of her skirt, revealing the beautiful beige-tan tops of her stockings and the black suspenders, layered over her tan pantyhose.
She knelt and pulled up her skirt to give a view of her lovely ass cheeks, sheathed in the diaphanous layer of shiny, tan pantyhose. Then slipped her fingers down the tops of her stockings between the smooth layers of nylon covering her thighs, her black suspenders stretching over the curve of her buttocks, pulling taut on her stocking tops.
Rebecca slid her thumbs into the waist of her skirt and let it slide over the curve of her ass and down her long, slender legs. Her peachy ass looked fabulous encased in shiny nylon hose and the thin strip of her pantie thong slipped between the cheeks of her smooth, rounded buttocks.
Rebecca stripped off her top and standing, she stretched her pantyhose upward, so the waist was almost up to the level of her breasts. Then she sat to slipped off her heels and laying back, she lifted up her long legs, crossing them at the ankles as she displayed the soles of her feet cocooned in their layers of nylon hosiery.