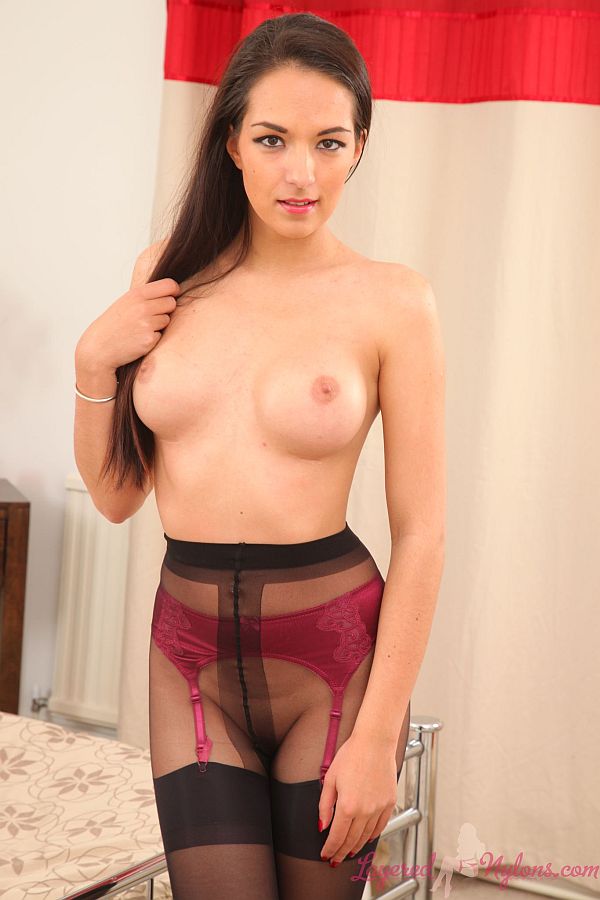 Rebecca Geldard looked fabulous as she posed in her faux leather top, tight fitting grey cotton skirt and legs in black hosiery and stiletto heels.
Rebecca stood a looked over her shoulder, her long brunette hair falling down her back and her beautiful eyes smouldering with dark mystery. She turned and lifting her skirt, revealed the red suspenders of her suspender-belt attached to her stockings, which framed the red panties she was wearing under a layer of black, sheer nylon pantyhose.
Rebecca bent slightly forward so her ass stuck out as she slipped the skirt down her long legs in their dark hosiery. She pulled her top over her head, revealing a red bra with white lace that matched her panties, then slipped the straps over her shoulders and stripped it away to uncover her petite breasts.
Rebecca sat on the bed and slipped off her heels, then stripped her pantyhose down her legs and took them off. Laying back, she lifted her ass off the bed and tugged her panties down her legs to slip them over her stockinged feet. Then she put her feet inside her pantyhose and rolled them back up her legs, until they were fitted snugly around her shapely hips and ass. Posing topless, she knelt and hooking her thumbs into the waist on her hose, she pulled them up so they were stretched tight around her naked crotch.