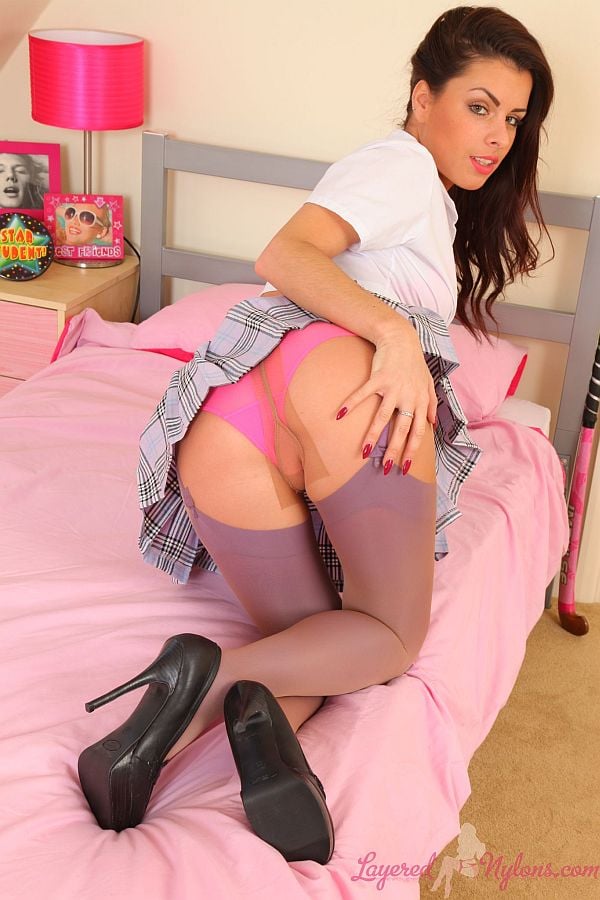 Rae knows that teasing the guys with a view of her underwear will get them all excited and likes to get their attention by wearing the most tantalizing skirts, which reveal just a glimpse of her stocking tops.
Rae said she met a guy at a party recently and they went off to a quiet bedroom upstairs for a snog.
'When we got in the room I lifted up my skirt and flashed my pink panties, purple suspenders and stockings to get him all aroused. He said he really liked my layer of tan, sheer nylon pantyhose over my underwear, so I knelt on the bed and gave him a view of my ass and the tan gusset stretched over the rear of my pink panties.
'I unzipped my skirt and wiggled my pantyhose as as I let the skirt slide down my legs, then sat on the bed and removed my heels to display my feet in their opaque layers of nylon.
'Taking things further, I stripped off my shirt to show I was wearing a lacy, purple bra, then hooked my thumbs under the thin straps and pulled it down to uncover my boobs.
'Then I lay sideways on the bed so he got a good look as I ran my hands over the curve of my gorgeous ass and legs in their layers of sexy nylon hosiery.'