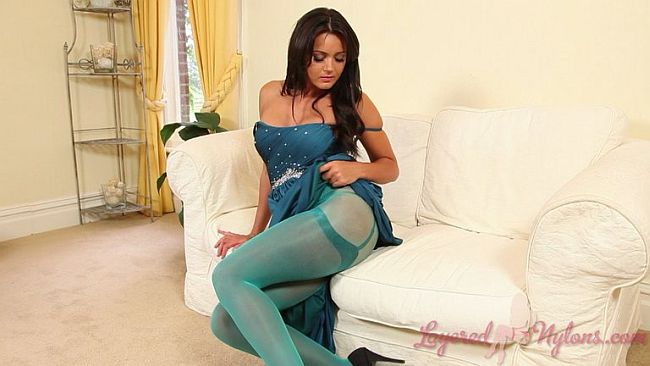 'Hi, I'm Kat Dee and this is my striptease for you,' Kat said, looking very elegant in her long evening dress as she ran her hands over her curves through the slinky material that draped and covered her body.
Gathering the heavy folds of the dress in her hands, she lifted them up to show her legs were clad in turquoise sheer nylon pantyhose that were layered over black stockings.
Kat knelt on the floor and pulled the dress up and over her ass to revealing black panties and her suspenders attached to the tops of her stockings, under the layer of her shiny, sheer tights. She swayed her ass in a sexy rhythm and luminous bands of light shimmered across the surface of her pantyhosed buttocks in their layer of shiny nylon.
Slipping the straps of the dress over her shoulders, she pulled down the front to uncover her tanned boobs, then let the garment slide over her body and legs in their shiny layers of nylon hosiery.
Kat posed topless as she stood and moved in a sexy sway, brushing her thighs together and turning around to display her curvaceous ass encased in it's layer of glossy, sheer nylon hose.