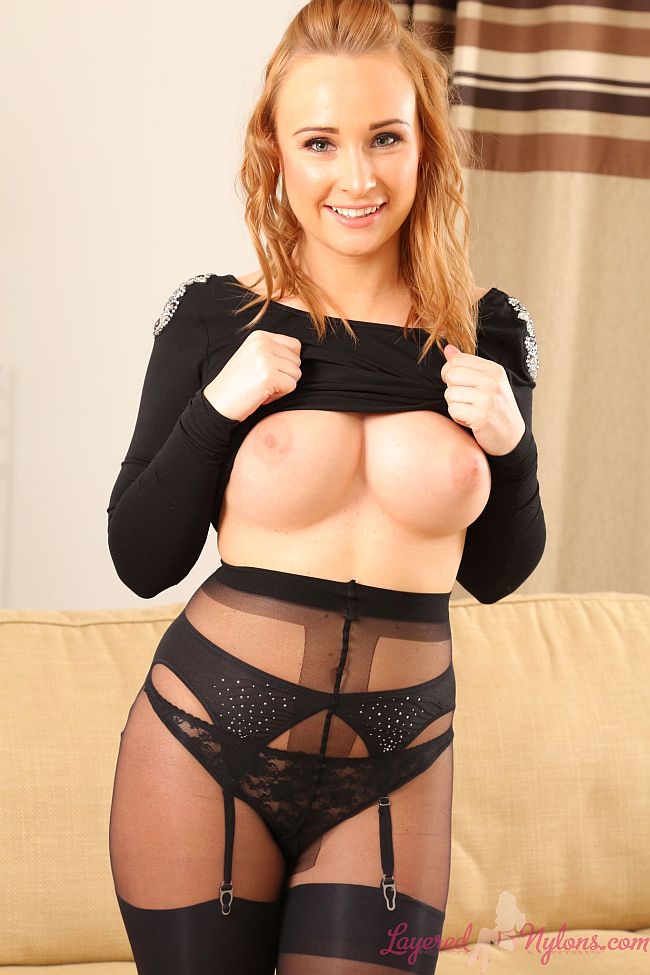 Rachel May is ready to party in her black dress, black pantyhose, stockings and stiletto heels. Such a sexy outfit will inevitably draw the attention of guys and no doubt she is anticipating giving them at glimpse of what she is wearing underneath.
Rachel gave us a preview and slowly pulled up her dress, revealing her ass bound by black suspenders attached by the metal clasps to her stockings. She knelt on the sofa and tilted up her delectable ass and her fabulous rounded buttocks appeared so tantalizing, sheathed in their layer of black sheer nylon pantyhose.
Rachel pulled up her top and revealed her pendulous breasts, perfectly shaped and tapering out to form her soft, pink nipples. She stripped the top over her head and posed topless, while pulling the waist of her pantyhose up her front so the crotch stretched tight around her black, lacy pantie thong.
Rachel slipped off her heels and posed in her black lingerie and layers of nylon, stretching her hose up her belly and giving an amazing view from below as we viewed the shape of her fabulous pointed tits.